ETP FLEXEL™ EMT Flexible Fittings
Product Announcement from Appleton Electric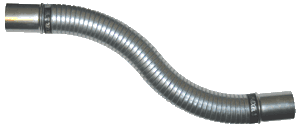 Continuing large conduit runs around corners, offsets, compound angles and through misaligned connections no longer requires 1,000 pounds of expensive equipment. FLEXEL™ EMT Flexible Fittings bend to one or more angles up to 90° with just elbow grease or a knee. FLEXEL can also be re-bent at will, completely eliminating wasted conduit bends that didn't fit. Stub fittings on both ends allow FLEXEL to be used with all EMT fittings. FLEXEL comes in comes in 1-1/4" to 4" trade sizes, accommodates both set-screw and compression fittings and maintains its internal diameter per NEC specification – even at a full 90°. FLEXEL is UL Listed and CSA Certified.
Features:
Hand-bendable from straight tubing to 90° (or any angle in between). No need to waste time lugging cumbersome bending machines into the field
Rigid enough to maintain configuration
Wire pulls through formed bends - no need to disconnect/reconnect
Specially designed so internal diameter remains unchanged, regardless of the bend configuration. Maintains compliance with NEC's minimum radius requirements
Bends and re-bends into virtually any configuration, including offset and compound angles
Isolates equipment vibration and allows for limited expansion and contraction
Suitable for use indoors wherever EMT is used as a raceway
Safely conducts the maximum ground fault current required by UL, CSA and the NEC. No need to pull a separate grounding conductor
Applications:
The FLEXEL can be used for all light-commercial, commercial and industrial applications. FLEXEL
can couple or connect EMT to other EMT runs, panelboards and junction boxes, whenever and
wherever a change in direction is needed.
Standard Materials:
Flexible Length: Strip Steel/Galvanized
End Fittings: Steel/Zinc Electroplated
---