New FDBAES Series added to Appleton LED Products
Product Announcement from Appleton Electric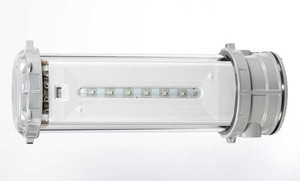 Appleton, a leading manufacturer of electrical products for hazardous and non-hazardous applications, has brought the superior efficiency, long life and reliability of Light Emitting Diodes (LED) technology to industrial emergency lighting with the introduction of its new FDBAES Series of flameproof, self-contained emergency luminaries, the latest addition to Appleton's growing LED product line.
Appleton FDBAES luminaries are purpose-engineered to deliver lighting and/or visual indication of safe access on exit routes during an evacuation in a hazardous industrial environment, including oil refineries, petrochemical plants, pulp and paper mills or other areas defined by the IEC as Zone 1, 2, 21 and 22.
FDBAES luminaries designed for escape lighting produce 55 lumens, consuming a total of 0.5 watts. In the event of an emergency, they will run for a one-hour duration on the built-in battery pack. FDBAES models engineered for space lighting applications produce 540 lumens, consuming a total of 0.95 watts. Both versions come equipped with 6 white LEDs rated for 60,000+ hours, or 6x time longer than standard fluorescent models. Either version can be ordered as switched or unswitched, and as addressable to allow regulatory control of the emergency lighting units and centralization of information on a networked management system.
Appleton lighting products are renown for their durability. The FDBAES boasts exceptionally rugged end caps and cover made of anti-corrosive gray painted Zamak with a sealed tempered glass lens. The threaded access cover is protective sealed with a Nitrile O-ring. The luminaries can be easily mounted in any position and run off 230 Vac 50/60 power.
For more information, visit www.appletonelec.com.
---