Off-Shore Reverse Osmosis
Product Announcement from Aqua-Chem, Inc.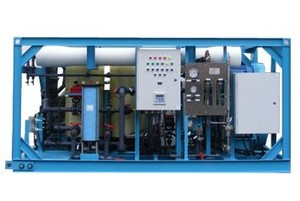 How Aqua-Chem Reverse Osmosis Works Desalination by Reverse Osmosis (RO) is a process whereby fresh water is extracted from seawater through the use of a semipermeable membrane. An RO watermaker consists of several key components. Prefiltration removes particulate matter from the seawater. Then, a high-pressure pump pressurizes the seawater to approximately 800-1,000 psi. Pressure vessels house the RO membranes where the separation of fresh water from seawater occurs. Approximately 40 percent of the seawater feed is extracted as fresh product. The balance of the water, referred to as "concentrate," is discharged to drain. A real-time conductivity instrument measures the conductivity of the product water. If the maximum conductivity limit is exceeded, product water is automatically diverted to waste. Design Features Sized to fit in minimum space. Modular, 2 and 3 piece options available to facilitate installation. Robust skid & frame. Can be turned on end to pass through vertical hatch openings. Top side lifting lugs. Frames coated for offshore service. PLC Control of start-up, backwash, shutdown and alarm sequences of operation Automatic freshwater flush at shutdown Design includes automatic back-washable media filters to minimize operating cost Cartridge filters for final filtration Membrane cleaning system included Long-lasting, efficient, positive displacement pump for RO pressure Top quality instrumentation and PLC mounted in NEMA-4X panel Motor starters and high voltage in separate NEMA-4X box Conservative membrane array using proven TFC elements Field proven design. Models in service for over 10 years.
---