ARCspectro-HT-2D:
Product Announcement from Arcoptix S.A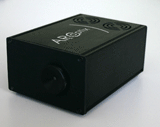 The Arcspectro HT is a static Fourier transform spectrometer (FTS) that is based on a licensed concept that uses the polarization properties of the light and the optical properties of crystals). It provides a extremely high throughput (sensitivity) and does not need external optics to be used. The Arcspectro HT is ideal for the measurement of low light, diffuse reflection and also in fields like fluorescence or Raman spectroscopy.
What makes the ARCspectro-HT spectrometer so exclusive?
ARCspectro HT is ideal for low light applications or for the spectral analysis of diffusing light sources (or samples). Its unique design permits to gather a maximum of light over a large diffusing surface (several millimeters!) and over a large angle (±10°). This gives a tremendous throughput advantage (~50x more) compared to the most powerful grating spectrometers (also well-known Jaquinot advantage) which are intrinsically limited by a small entrance slit (typically 0.025mm). This makes this unique device ideal for applications were small light intensities has to be analyzed (fluorescence or Raman spectroscopy). THIS PDF document shows a comparison between a standard grating spectrometer and a the Arcspectro HT for a strong diffusing source
Overview of the ARCSpectro HT Models:
Choose the right model for your needs!
ARCSpetro HT series contains three different models with different detector arrays having different properties. The table below gives an overview:
ARCSpetro Models
Detector Array
Features
Applications
Price

HT

-HR
High Resolution

Toshiba TCD 1304 3648 Pixels CCD

.
- High Throughput
- < 1nm @ 550nm

- Peak position Measurement
- Need for Higher resolution
6000 EUR

HT

-

2D

2D detector
High SNR
High dynamic
CMOS 2D camera
1024x1248 Pixels
- High Throughput
- 1024

Me

asurements
in one shot
- Compact
- Short Integration
Time (50ms)
- High Dynamic range
- Diffuse Reflection with
sufficient light
- High SNR, High Stability
- Need for High dynamic
range
6000 EUR
HT-NIR
InGaAs Detector for NIR Range
Goodrich 512 Pixels
1.7mm InGaAs detector Array
- High Throughput
- < 10nm @ 1000nm
- 900-1700nm

- Diffuse Reflection


measurements for food
and pharma industry
15'000 EUR
You have successfully added from to your part list.
---