FTIR Spectrometer from Arcoptix
Product Announcement from Arcoptix S.A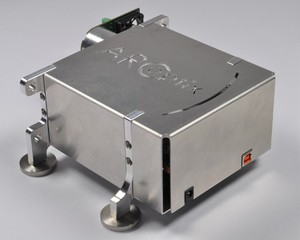 The Arcoptix FTIR Rocket Spectrometer is a scanning Fourier Transform Spectrometers (FTS) with a spectral range from 2 to 12 μm (5000-830 cm-1) and a resolution of 4cm-1. The spectrometer has a compact and robust design. It's modular concept permit to adapt every measurement situation in an efficient and cost effective way.
Quick Links:
The FTIR Rocket is a family of scanning Fourier Transform Spectrometers that is based on a compact and robust design. Because of its sealed self-compensated interferometer and temp. stabilzed solid state reference laser, this new generation of FTIR has a minimal senstitivity to vibrations and temperature fluctuations. Learn more here...
Features:
High stability in wavelength position and intensity (no baseline drift)
High wavelength precision (ideal for peak detection)
High resolution (4cm-1)
Fibered system (up to 12µm)
Large wavelength range (only limited by the detector)
Modular system with seprate interferometer, detector and illumination module
Cost effective (single NIR photo-diode)
About Arcoptix:
ARCoptix is located around the ARC of the Jura mountains in the heart of the watch valley in Neuchâtel, SwitzerlandWith a distributor network around the world.
ARCoptix specializes in the creation of optical systems prototypes. Our services also include MOEMS design, optical system design, custom liquid crystal cells fabrication, micro-optical component fabrication, characterization of birefringent materials and spectral analysis. In addition to our services, we offer various products such as custom free-form mirrors, liquid crystal systems for R&D labs, and an inteferometric based velocimeter.
View more about our extensive line of products below:
You have successfully added from to your part list.
---