Argonics New Impact Bar- Engineered to be the Best
Product Announcement from Argonics, Inc.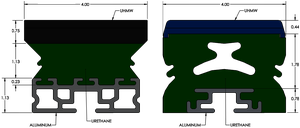 Bulk material plant engineers rely on highly engineered impact zones to withstand the heaviest and roughest material handling applications. They know the growing pressure to maximize uptime while improving safety factors. Our patented Load Zone™ Impact Bars more than meet this challenge. And now, we are raising the bar: taking our urethane expertise and state-of the-art engineering to a revolutionary level.
Purpose of Redesign
Our original design served the industry well, but advancements in technology meant that the time had come to look at what we could do to better it. Our engineers spent more than a year prototyping and testing various designs, looking to reduce load deflection and increase bar strength. We carefully analyzed customer feedback, identifying their most critical needs. Using these criteria, we set out to re-engineer and test a new Impact Bar design that excels in meeting the following challenges:
Goals of New Design
Reduce material spillage
Minimize belt damage
Maintain transfer alignment
Maximize impact absorption
Mitigate the hazard of bounce
Settle the bulk product faster
Benefits of Re-Engineering
Improved productivity
Decreased down time
Reduction of clean up labor
Improved safety
Reduced maintenance time
Longer time in between replacement
Reduced costs
Overview
We looked to strengthen our bars for use in areas where the force of impact from the material's weight and size create the most damage to material handling equipment. This extreme impact contributes to damaged belts, bent frames and/or causes spillage of material – all of which lead to subsequent down time for adjustments and replacements.
Key Improvements
.75" thick UHMW top provides twice the wear life compared to our previous bar
Compression chamber core moved to the outside of the bar, resulting in less rebound of material
New insert is 241% stronger
Deflection Testing and Analysis
Using extensive testing and simulations along with beam calculations, the new design demonstrates significant improvement in deflection over the original Argonics design.
Applying 150 pounds of force upon a 72" impact bar proved that the new design deflects the load by .56" versus 1.91" deflected by the original design, demonstrating a 241% improvement over the original design.
A Whole New Design: Engineering and Testing
With today's heavier loads and higher speed conveyors, Argonics sought to develop an impact bar that would settle these loads faster and absorb more of the impact. The original bar, which contained a hollow core designed for energy dispersement, would need to be tested against the new solid core design as well as the industry standard rubber impact bars.
Method
Over the course of a year, Argonics developed 12 different prototype designs, each of which was subjected to rigorous testing. Utilizing the results, the new bar was created to be substantially stronger, have less rebound and still have the ability to absorb the impacts of some of the largest conveyed material. Extensive simulations proved that by increasing the thickness of the UHMW in combination with creating compression relief channels along the sides of the urethane, energy absorption and performance was significantly improved. The newly engineered aluminum base increases the strength of the bar by 241%.

New Bar Dimensions
Top layer: Using 0.75" layer of proprietary blended UHMW which increases the wear life by 2 times over the previous Argonics bar
Intermediate layer: Consisting of a specialty formulated energy absorbing urethane
Lower layer: Engineered aluminum insert maximizes the support for even the most demanding of loads
Bounce Testing
Bouncing of bulk material due to height of dropping can create significant safety and spillage problems. To compare the rebound height, or bounce, a simulation test was conducted using 14,000 lbs. of point load force. The results clearly demonstrate the new design of Argonics impact bars are truly revolutionary in that they exceed anything available in the industry today.
New Design Saves Time and Money
Argonics' engineers calculated that correcting impact spillage and leakage to reduce clean up and minimize lost material could be worth 25% or more in operating time efficiency and clean up. Depending upon the value of the material being conveyed, the savings in reduced spillage can be even more economically dramatic.
Reduced Hardware Costs
A half-inch bolt and washer was standard on the previous version and continues to deliver reduced fastening costs and save time and money on replacement and set up.
Engineering and Testing Results
The UHMW polyethylene layer is now twice as thick as the previous bar, effectively increasing the wear life by 2X
The new design has 24% lower rebound than rubber bars
The new aluminum base provides better support while increasing overall strength by 241%
LOAD ZONE REPLACEMENT IMPACT BARS
Argonics' Load Zone impact bars are available in standard lengths of 48" (1220 mm), 55" (1400 mm), 60" (1520 mm) and 72" (1830 mm). All bars come standard with a heavy duty extruded aluminum insert which provides rigidity and is designed to be installed using a standard 1/2" (13 mm) grade 8 bolt and washer, reducing cost by eliminating expensive T-bolts.
COMING SOON - RETROFIT IMPACT BARS
Argonics also manufacturers 18" (457 mm) retrofit impact bars for both Continental and Goodman beds.
Unlike the original O.E.M. design, Argonics' one piece design eliminates the bolt holes that can fill with fugitive material and possibly damage the belt.
These impact bars are equipped with a heavy duty extruded aluminum insert and are designed to accept a standard 1/2" (13 mm) grade 8 bolt and washer.
---