Learn More about LOAD ZONE™ BARS
Product Announcement from Argonics, Inc.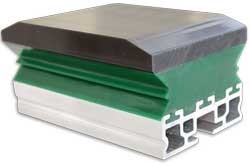 Our Load Zone impact bars are newly redesigned after more than a year of research and testing. The result is an impact bar that is 241% stronger than our previous bar.
UHMW is bonded to high performance Kryptane® urethane, creating a single piece construction and eliminating open bolt holes as found on other bars. These layers are supported by an engineered insert that provides 241% more strength. Our bars accept a standard 1/2" (12mm) grade 8 bolt and washer instead of a costly T-bolt, reducing hardware costs. Multiple formulations are available, including MSHA-approved flame retardant formulas.
Testing Results Show:
The UHMW layer is now twice as thick as the previous bar, effectively increasing the wear life by 2X
The new design has 24% lower rebound than rubber bars
The new aluminum base provides better support while increasing overall strength by 241%
Since 1993, Argonics, Inc. has been busy becoming the industry's largest producer of polyurethane products by providing high performance urethane solutions with its team of qualified personnel and one-of-a-kind, state-of-the-art production facility.
Argonics formulates a variety of proprietary performance-based polyurethane materials and services to specifically meet the needs of industrial applications around the globe. As a leader in the concrete, aggregate, agriculture and mining industries, Argonics is known as the solutions provider to all of these industries' hard-to-solve wear problems. Utilizing its seasoned team of engineers, technicians, tooling machinists, fabricators and production staff, Argonics will tackle your wear problems from concept and design, to solution integration and delivery.
Over and over, in installation after installation, Argonics' High Performance Polyurethane materials have eased installation, saved on maintenance costs, and reduced downtimes. This results in saving our customers thousands of dollars in lost production and man-hours. Our success is measured by our customers' satisfaction.
Products:
Honored as one of Michigan's 50 Companies to Watch
Award for Entrepreneurial Excellence, Operation Action U.P.
Award of Excellence, Operation Action U.P.
Named one of Michigan's Best Small Businesses
---