Product Announcement from Argonics, Inc.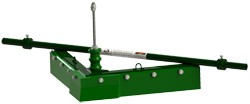 DIAGONAL PLOW
The V-Max X-Plow may seem simple, but don't be fooled, it works! Thanks to the adjustable down pressure system, this single-minded plow will reduce your down time and increase your bottom line.
Designed with a .25" (6 mm) thick, 2.5" x 2.5" (63.5 mm x 63.5 mm) tube stock steel mainframe and anti-seize, urethane-lined stub ends for rugged performance and durability.
BENEFITS
Equipped with Kryptane® G83 polyurethane blade
Rugged mainframe and blade design
No hoses, cables, shocks or mud-packed components to deal with
Adjustable vanadium die spring tensioners
Comes standard with safety chains
Wear travel limit mounting brackets with guide pins
Weld- or bolt-in installation
V-MAX V-PLOW™ and E-MAX V-PLOW™
The V-Max V-Plow has seen duty in some of the world's largest quarries and has protected them from major damage and costly repairs. Dirt and rocks can get caught in between the belt and pulleys, ripping holes and creating hours of costly downtime. The V-Max delivers adjustable down force, so nothing will get through.
V-MAXTM
Designed with a .25" (6 mm) thick, 2.5" x 2.5" (63.5 mm x 63.5 mm) tube stock steel mainframe and anti-seize, urethane-lined stub ends for durability and chatter-free operation.
E-MAXTM - for lighter duty applications
Designed to be lightweight yet durable, with a .25" (6 mm) thick, 2" x 2" (50.8 mm x 50.8 mm) angle iron frame and a .1875" (4.76 mm) thick, 1.5" (38.1 mm) O.D. tube stock steel cross member.
The E-Max V-Plow is an economical solution for budget-conscious quarries that want the protection that a v-plow offers. The E-Max V-Plow glides on the belt's surface, effectively removing the dirt and rocks while keeping an eye on your budget.
Take cleaning to the next level with V-Plows from Argonics
Keep rocks, fines, clumps and other debris off your belt and away from your tail pulley with the Argonics V-Max and economy series of V-Plows. These plows are equipped with our best Kryptane urethane side blades and an angled front nose plow.
The choice is yours: The V-Max with its vanadium spring tensioning system for extremely dirty environments with heavy vibration, or the E-Plow (economy plow) for systems that need protection but at an affordable price. Both clear debris while floating on the belt and will self-adjust as they wear. And both come fully assembled, ready to install with easy step-by-step instructions included.
BENEFITS
Equipped with Kryptane® G83 polyurethane blades that are easily replaceable and provide 3" (76 mm) of wear before needing service
Rugged mainframe and heavy duty front nose plow blade
No hoses, cables, shocks or mud-packed components to deal with
Adjustable vanadium die spring tensioners keep the plow on your belt during heavy vibration (V-Max only)
V-Max systems 32" and larger come standard with safety chains and nose tensioner. Those features are optional on the E-Plow.
Wear travel limit mounting brackets
Weld- or bolt-in installation
DOWNLOADS
TECHNICAL PRODUCT BULLETINS
INSTALL GUIDES
SIZING CHARTS
SUPERIOR POLYURETHANE FROM ARGONICS INC.
Argonics' manufacturing process utilizes a unique quasi-process. This means the chemicals we use are made to order and specifically formulated for us by a world-leading chemical company. When these chemicals are mixed they are in their purest form. Simply put, chemicals that are mixed in a purer state react with one another more completely, creating a superior product. Plus, Argonics is the only manufacturer to identify a unique agent that can increase the reaction rate and force a more complete reaction of the chemicals, increasing the overall abrasion resistance of our material. Argonics' proprietary Kryptane polyurethane products consistently have the lowest percentage of unreacted molecules, which is demonstrated by the superior performance of our products in the field.
KRYPTANE POLYURETHANE ADVANTAGES:
Argonics' high performance Kryptane polyurethanes are the number one choice for bulk material handling and custom molding applications. Our formulas offer outstanding physical properties, which produce superior wear-resistant products.
PERFORMANCE – Kryptane polyurethanes offer unparalleled abrasion and tear resistance. They have proven themselves over the past two decades to withstand the harshest abrasive environments.
DIVERSITY – Argonics has the ability to make individual polyurethane formulations tailored to customer-specific needs. These formulations can be modified to alter tensile strength, compression, rebound, tear strength, color and hardness.
ADVANTAGES VS. METAL – Kryptane polyurethanes are lightweight, reduce noise, offer better wear resistance, and are corrosion-resistant.
ADVANTAGES VS. PLASTICS – Kryptane polyurethanes are not brittle like most other plastics. They exhibit an elastomeric memory and provide superior abrasion resistance.
ADVANTAGES VS. RUBBER – Kryptane polyurethanes have better abrasion and tear resistance than rubber, have a higher loadbearing capability and can be manufactured in a wider range of durometers (hardness).
CUSTOMER TESTIMONIAL
"We have installed several belt scrapers, replacement blades, ceramic chute liners and 1/2" x 6" skirting. All the above products have performed well... We will no doubt order more in the future. Thanks for supplying us with quality products."
OUR PRIMARY CONVETOR BELT CLEANING SYSTEMS
MICRO ERASER™ - The Micro Eraser is your answer for portable equipment with tight clearance issues. Designed with our 6" tall RaptorTM blade, it works best on belts up to 48" wide with head pulleys of 28" diameter or less. This economical but powerful system is comparable to our competition's standard system. Available in pin style only.
ERASER PQ ™ - The Eraser PQ (Pit and Quarry) system is an economical cleaner designed for performance and reliability. With a simple and effective spring tensioning unit, it uses our 6" tall Raptor blade and requires little to no maintenance.
ERASER™ - The Eraser system is our standard industrial workhorse. This rugged yet versatile cleaner is built around our exclusive patented Perma-TorqueTM tensioning system. It is equipped with a 7.25" tall Raptor blade, and can handle most of your demanding applications with ease. Available in pin style or with Safe Torque™.
S3MAX™ - The S3Max is an intermediate system between the Eraser and the Super Eraser that features a 10" tall blade. It is ideally suited for more aggressive applications where a larger blade is required, or those systems with a larger head pulley. Available only with Safe Torque.
SUPER ERASER™ - The Super Eraser is a Mine Duty cleaner. It has a .25" thick, 3.5" x 3.5" box steel mainframe and a massive 12" Raptor blade. It will handle anything you throw at it. If you're dealing with high speed, high tonnage belts, the Super Eraser was built specifically for you. Available in pin style or with Safe Torque.
ERASER HD™ - The Eraser HD is designed to withstand heavy vibration. This system has a reinforced mainframe and a heavy-duty channel attachment design. It utilizes a series of 6" wide x 7" tall Raptor blade segments that conform to crowned head pulleys. Available in pin style or with Safe Torque.
SUPER ERASER HD™ - The Super Eraser HD is a channel mount version of the Super Eraser. It matches Mine Duty design with segmented blade technology. If you like big equipment, this is the one. Even the harshest environments don't stand a chance against the Super Eraser HD. Available in pin style or with Safe Torque.
BELT WIPERS - KS02, KS03 and KS04 belt scrapers and wipers are long-lasting wear solutions. Order them to the width needed, then just cut to length and mount.
OUR SECONDARY CONVEYOR BELT CLEANING SYSTEMS
The XTC™ is one powerful reversing conveyor cleaner. Choose from polyurethane, tool steel, stainless steel or tungsten carbide blades. The system can handle wet, dry, sticky or slimy conditions. The unique Web-Torque tensioner has enough give for mechanical splices and the flow-over blade design reduces material build up.
The ERASER DS™ is an economical version of our XTC cleaner, with a .19" thick, 2" x 2" powder-coated tube stock steel mainframe for strength and durability. It is specifically designed for reversing conveyor belt applications. The DS uses the same polyurethane and tungsten carbide blades as the XTC.
The SUPER-G™'s unique "pass-through" mainframe design allows material to freely fall through it, keeping your systems online with little to no maintenance. This system is based on the same heavy-duty mainframe and Perma-Torque tensioner as our Eraser system. Choose either a solid urethane or urethane/tungsten carbide blade.
Since 1993, Argonics, Inc. has been busy becoming the industry's largest producer of polyurethane products by providing high performance urethane solutions with its team of qualified personnel and one-of-a-kind, state-of-the-art production facility.
Argonics formulates a variety of proprietary performance-based polyurethane materials and services to specifically meet the needs of industrial applications around the globe. As a leader in the concrete, aggregate, agriculture and mining industries, Argonics is known as the solutions provider to all of these industries' hard-to-solve wear problems. Utilizing its seasoned team of engineers, technicians, tooling machinists, fabricators and production staff, Argonics will tackle your wear problems from concept and design, to solution integration and delivery.
Over and over, in installation after installation, Argonics' High Performance Polyurethane materials have eased installation, saved on maintenance costs, and reduced downtimes. This results in saving our customers thousands of dollars in lost production and man-hours. Our success is measured by our customers' satisfaction.
Products:
Honored as one of Michigan's 50 Companies to Watch
Award for Entrepreneurial Excellence, Operation Action U.P.
Award of Excellence, Operation Action U.P.
Named one of Michigan's Best Small Businesses
You have successfully added from to your part list.
---