The Eraser is our standard industrial workhorse
Product Announcement from Argonics, Inc.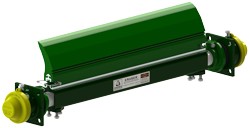 Watch>>>The Argonics Eraser conveyor belt cleaning system with SafeTorque ratcheting tensioner in use at an asphalt plant in Nevada.
The Eraser system is our standard industrial workhorse. This rugged yet versatile cleaner is built around our exclusive patented Perma-Torque tensioning system. It is equipped with a 7.25" tall Raptor blade, and can handle most of your demanding applications with ease. Available only with Safe Torque™.
Since 1993, Argonics, Inc. has been busy becoming the industry's largest producer of polyurethane products by providing high performance urethane solutions with its team of qualified personnel and one-of-a-kind, state-of-the-art production facility.
Argonics formulates a variety of proprietary performance-based polyurethane materials and services to specifically meet the needs of industrial applications around the globe. As a leader in the concrete, aggregate, agriculture and mining industries, Argonics is known as the solutions provider to all of these industries' hard-to-solve wear problems. Utilizing its seasoned team of engineers, technicians, tooling machinists, fabricators and production staff, Argonics will tackle your wear problems from concept and design, to solution integration and delivery.
Over and over, in installation after installation, Argonics' High Performance Polyurethane materials have eased installation, saved on maintenance costs, and reduced downtimes. This results in saving our customers thousands of dollars in lost production and man-hours. Our success is measured by our customers' satisfaction.
Products:
Honored as one of Michigan's 50 Companies to Watch
Award for Entrepreneurial Excellence, Operation Action U.P.
Award of Excellence, Operation Action U.P.
Named one of Michigan's Best Small Businesses
---