Area Leak Alarm
Product Announcement from Arjay Engineering Ltd.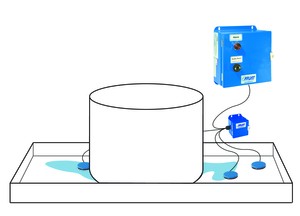 The 2852-LPS control unit can monitor up to 3 sensor pads for a common relay alarm.
The control unit is mounted safely away from the sensing area using standard 2-conductor wire.
Once the sensor pads are laid into place, a quick calibration tunes the controller to the field capacitance. Any intrusion of liquid around or under the pads will initiate an alarm.
The sensors can be made Intrinsically Safe for hazardouos classified areas.
Sensors repsond to diesel, oils, chemicals, water, acids...virtually any liquid that has dielectric higher than air.
---