Print Your Message on our Tubing and More!
Product Announcement from Ark-Plas® Products, Inc.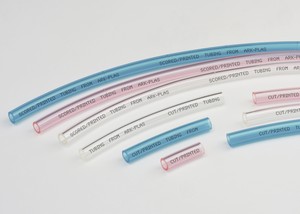 In addition to our standard plastic extruded Flexible Tubing, Ark-Plas® can print custom messages, company names, part numbers, product specifications, and much more. Custom printed tubing can help with organization when working with your applications.

Need custom length tubing? Ark-Plas® also offers custom cut tubing to a desired length as short as 3/8" or as long as a bulk spool will allow on most of our extruded materials.

Custom scored tubing is a vailable for ease of pulling off a desired length of Flexible Tubing, but retaining the convenience of the Flexible Tubing being stored on a spool.

Our custom printing, cutting, and scoring capabilities include:
• Printing Custom Messages
• Printing Custom Company Names
• Printing Part Numbers
• Printing Tubing Specifications
• Printing Contact Information
• Cut tubing on most materials as short as 3/8"
• Scored Tubing at set lengths
• If you are needing other printing, cutting, or scoring for your application, contact us for a custom quote

Please contact Customer Service @ 870.453.2343 for additional information on custom printed, scored, or cut products.

* Note: Ethelplas® NSF Tubing is printed with a pre-determined message that can not be changed to a custom printed message for quality certification purposes.
You have successfully added from to your part list.
---