Product Announcement from Arlon LLC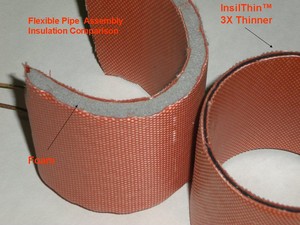 Arlon's InsilThin™ replaces traditional 1/4" (6.4 mm) and 1/2" (12.7 mm) silicone foam insulation with a product that is 50%-75% thinner, while maintaining better thermal stability up to 250°C.
InsilThin™ can be used in conjunction with Arlon flexible heater substrates where the goal is longer service life, greater thermal stability, and energy & space savings. Arlon's InsilThin™ offers the following:
1. Thin profile
Space savings
Easy design
2. Less energy consumption
Electricity cost savings for flexible heaters
Electricity cost savings for facility air conditioning
3. Longer service life
Silicone foam degrades at operating temperature over 180°C
4. Particle free
Thermal insulation material is totally sealed in robust silicone rubber
5. Adheres well to Arlon's uncured flexible heater substrate compounds
6. Is easily bonded to Arlon's flexible heater substrates
There are two product options: 680-R3839R and 680-R3844R
Both products are 0.084" +/- 0.015" thick and can be purchased in rolls up to 48" (1.22 m) wide by 150 yards (137m) long.
The 680-R3839R InsilThin™ material has a 0.06 W/(m-k) at 250ºC and the 680R3844R InsilThin™ material has a 0.03 W/(m-k) at 250ºC.
Feel free to click on the "See Product Details" link to review product data sheets, MSDS information, technical report on InsilThin™ energy savings and much more
You have successfully added from to your part list.
---