How To Select the Right Instant Adhesive
Product Announcement from Aron Alpha Industrial Krazy Glue (Toagosei America, Inc.)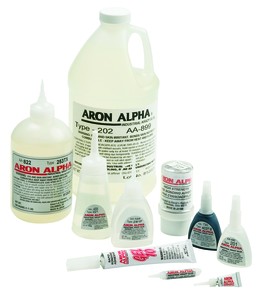 How To Select the Right Instant Adhesive For Your Manufacturing Process
A clear definition of your objectives is key in the selection of the proper cyanoacrylate (instant) adhesive for your requirement. An adhesive cannot be selected for an application only on the basis of bond strength information. Other factors such as substrate material, cure speed, environmental resistance, thermal resistance and automation suitability will play a important role in determining the best instant adhesive for a specific application.
Here is a check list of information you'll need to know to achieve optimum solutions.

MATERIALS TO BE BONDED
The chemical name or the trade name of the materials to be adhered, cleanliness of the surface, porosity of the substrates, substrate sensitivity to cyanoacrylates and surface area of the bond.

MATING OF BONDED SURFACE
The gap between the two surfaces to be joined can determine the viscosity of the cyanoacrylate. Whether the adhesive is applied pre-assembly or post-assembly on the two surfaces is another determining factor. Cyanoacrylate formulas range from wicking (permeation) between two tightly mated surfaces, to thixotropic gel formulations designed to fill gaps in uneven surfaces. Some surfaces may have to be pre-treated by cleaning, sanding or priming to ensure a strong, permanent bond.

SPEED OF CURE
The assembly process plays a part in the proper selection. High speed automated equipment generally requires a very fast setting adhesive, while manual assembly and the pieces to be bonded may require time for proper positioning or repositioning.

ASTHETIC REQUIREMENTS
Visible bonded joints may require additional consideration…such as chlorosis (blooming) potential, stringiness of adhesive, product clarity/surface resolution and method of application.

ASSEMBLY ENVIRONMENT
Temperature, humidity, ventilation, assembly methods, equipment and materials being bonded can influence the performance of the adhesive. Less than ideal conditions should be factored into your instant adhesive selection.

END-USE ENVIRONMENT
The final use and/or operating environment of the adhered parts is critical in specifying the right cyanoacrylate. Key conditions to assess are temperature, humidity and chemical interaction/corrosion.

BOND STRESS
If the bonded assembly is to be subjected to stress in its final environment, the proper instant adhesive becomes critical to strength and durability. Types of stress to consider are:
* Tensile Load
* Compression Load
* Shear Load
* Impact Load
* Peel Load
* Cleave Load

Joint design can influence the functionality of the bond and, in conjunction with the proper adhesive selection, bonded parts can provide better, more cost efficient assembly solutions.

For more information on how to select the right instant adhesive for your manufacturing process, contact Aron Alpha Industrial Krazy Glue at 614-879-9411 614-879-9411 or visit www.aronalpha.net/contact-us.html to learn more.

MARK TANSKY, Application Engineer
Toagosei America, Inc. - Aron Alpha Industrial Krazy Glue
1450 West Main Street
West Jefferson, Ohio 43162 USA
P: 614-879-9411 614-879-9411
E: mtansky@toagosei.net
You have successfully added from to your part list.
---