Product Announcement from Arthur G. Russell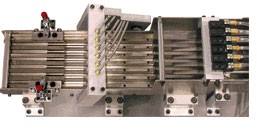 High Performance Vibratory and Rotary Feeders
VibroBlock® High Performance Vibratory Feeders are equipped with automatic servo controls,adjustable vibration angle and feed rates up to 150 feet per minute. Bowl diameters vary from 6 to 34 inch diameter, in cast aluminum (CNC machined) stainless steel and composite materials. Special tooling is provided by our skilled technicians, many with 30 years experience. Linear vibratory tracks can be constructed in any length, with feed rates up to 40 feet per minute. High performance rotary feeders with feed rates up to 1800 parts per minute.
Off The Shelf Automation Components:
The AGR Pneumatic Rotary Actuators, Models RA-1A and RA-2A, are compact, air-operated devices for producing limited angular motion. They are used for driving high-speed rotary escapements, gating devices, latch mechanisms, etc. The RA-1A can be set for any angle up to 50° and the RA-2A can be adjusted from 45° to 220° by means of the adjusting screws. Nylon plugs are provided in the body to lock the adjusting screws. The maximum rated operating pressure is 100 psi. The RA-1A and RA-2A are provided with tapped mounting holes on all four sides and can, therefore, be mounted in any desired position. They are equipped with glide bearings and require no maintenance other than conventional air line lubrication.
Mounting the load: The load can be attached to the mechanism by means of a #10-32 screw and pressure washer in the end of the rotor shaft with a 3/16" dowel pin between the load and the oscillating stop member. This stop member can be drilled out and tapped as desired for other types of mounting. Setting the stroke: The stroke of the RA-1A is set by adjusting the two #10-32 set screws, which limit the angular motion.For the RA-2A, when operating angles are 120° or less, the angled threaded holes are used for the adjusting screws. For angles over 120°, the holes perpendicular to the surface of the RA are used.Type of drive: Both units are driven from any conventional 4-way valve. If speed control is required, Model FC-32 Flow Control Valve is recommended.The AGR Rotary Actuators are provided with #10-32 air connections for AGR UNIGRIP® Fittings (See UNIGRIP® Catalog).
The AGR Pneumatic Pick-Up Head has been designed to meet performance requirements of high-speed assembly machines and to mount on the tool holder of our UNIPLACE® Pick-and-Place Mechanism. It can also be used with other mechanisms. Compact configuration has been combined with lightweight alloys in the body to achieve low mass. Three sizes are available, Models DP-1, DP -2 and DP 3. Pick-up arms are drilled for mounting of pick-up fingers or other devices. Return springs can be installed on either side of the piston for either normally open or normally closed operation. For extremely high-speed operation we recommend double-action operation from a four-way valve. The AGR Pneumatic Pick-Up Head has the advantage of fast, positive and highly dependable operation, requiring little or no adjustment or maintenance.
With properly designed tooling, it will take care of the great majority of pick-up and placement requirements. It is also useful for light clamping applications and for carrying funnel jaws to facilitate assembly operations. The DP 1, 2 and 3 can be mounted on an A. G. Russell Breakaway Head. This mounting feature permits the Pick-Up Head to "break" from its mounting if a lateral impediment is met. The steel dove tail design provides accurate mounting and easy reassembly if disconnection occurs. The unit can be used in many other applications where compliance is necessary in tool mounting.
The AGR Rectangular Tucker is a standardized and refined version of a basic principle which converts straight line motion into rectangular motion. When special tooling is attached to the cross slider, the mechanism engages a part or component and moves into position in the workstation and returns for another part. The rectangular Tucker is made in three standard sizes: the RT-2 (2" maximum stroke), the RT-4, (4" maximum stroke) and the RT-6 (6" maximum stroke). The maximum stroke of the cross slider on all units is 1". They can be operated mechanically from the basic machine cam shaft, or air cylinder.
These tuckers are most commonly used for the transfer of parts from a rail or magazine into a workstation. They are sometimes used for separation or final orientation of parts in conjunction with the UniPlace® mechanism. The Tucker is equipped with adjustable screw stops to provide accurate positioning of tools and to limit both longitudinal and cross-motions. The self powered unit is mounted on a plate so it can be set at any desired angle. These tuckers are air powered and are designated as APRT-2, APRT-4, and APRT-6. Each unit provides a full range of stroke adjustment and is designed for universal mounting on UniClamp® fittings. AGR engineers are prepared to design special heads or other assessory tooling to take full of advantage of the flexibility of motion and work capabilities of these tuckers. Used singly, in coordinated grouping, or in combination with UniPlace® mechanisms, the AGR Rectangular Tucker is an extremely versatile unit.
The AE-2 is a compact, heavy-duty unit which is self-contained and provided with two drilled arms on which the escapement finger tooling can be mounted. It is an extremely simple and versatile mechanism on which an infinite variety of tooling can be mounted in many different positions. The escapement itself can also be mounted in any desired position. An important feature of the escapement is the interior valving, which assures that each arm reaches the forward position before the other can retract, thus providing positive cut-off in the feed line and isolation of the part or parts to be fed before the next cycle takes place.The escapement is operated by a suitable 4-way valve, controlled either mechanically, or electrically, from the machine-timing shaft. The maximum speed is 200 cycles per minute.
Automation Innovator Since 1945
Since its founding in 1945, Arthur G. Russell has been an innovator in the field of automatic assembly equipment. At that time the lack of adequate parts feeders and reliable automation components limited assembly speeds and equipment reliability.
In response, AGR developed a line of vibratory feeders based on the modular Vibroblock® that was state of the art both electrically and mechanically. These engineered feeders could deliver parts at much higher rates, which raised the bar for automatic assembly systems.
Feeder performance was further enhanced with AGR's introduction of closed loop vibratory control and variable frequency operation. Other AGR innovations included modular mechanical devices including cam driven pick and place units, grippers, part escapements and rotary and linear actuators.
Appropriate application of these technologies led to literally thousands of successful automation projects.
Our ability to feed and handle parts at high speeds led to specialization in the ultra high volume medical device and consumer products industries where for over 40 years we have been designing, building, installing, and supporting world class assembly, test, inspection, and packaging systems.
Continued application of more sophisticated controls, servo systems, sensors, and inspection equipment have allowed our systems to keep up with increasing customer demands for higher speeds, zero defects, and unprecedented reliability. AGR is committed to constantly being aware of the latest technologies, knowledgeable regarding their proper use, and creative in ways to apply them to maintain our leadership position in the ever evolving automation market.
Products:
Services:
You have successfully added from to your part list.
---