Expanded Line of 3-Way Diaphragm Valves
Product Announcement from Asahi/America, Inc.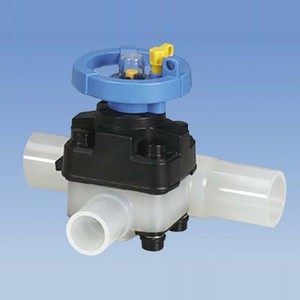 For branches and laterals, our T-343 Zero Dead Leg diaphragm valves (ZDL's) eliminate dead space where bacteria can grow. Valves are cleanroom produced, assembled and packaged. All valves come standard with integral lock out device to prevent unauthorized cycling. Valves are 150psi rated at 68°F and designed for high temperature service. Fully serviceable with replacement diaphragms available.
Ideal Applications Include:
Lateral/Branch Isolation, UPW, WFI, RO/DI Systems, Semiconductor, Photovoltaic, Pharmaceutical, Biotech, Institutional, Laboratory Research, Nanotech
Features:
T-343 Diaphragm Valves (PVDF, PPn, and PP)
T-343 Polypropylene valves are available in high purity Purad PVDF, PolyPure Natural PP or PP-Pure ® Pigmented PP resins
Valves are supplied with either PTFE backed EPDM or EPDM diaphragm seals
Valves are clean room produced and assembled
T-343 valves come standard with integral lock out device to prevent unauthorized cycling. All valves are 150 psi rated at 68° F
---