Data storage card for electrical safety testers
Product Announcement from Associated Research, Inc.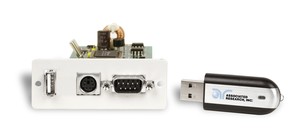 Associated Research, Inc. offers an optional Data storage card for their OMNIA® and HypotULTRA® III series of electrical safety testers. The Data storage card option provides users with a choice in communication protocols as well as a quick and efficient method to log test data in production line areas where connecting to a PC is impractical.
The Data stprage card includes a serial port, a data collection port and a PS/2 input. The serial port can be configured for RS-232 or RS-485 communication providing users with additional control options.
The data collection port works directly with a provided 256 MB flash memory stick. The internal flash memory can store up to 100,000 test results. Test data is automatically stored at the end of each test and includes: a time and date stamp of the test, model and serial of the testing instrument, test file numbers, and all measured test results and pass / fail data. If the bar code is enabled, model and serial number of the device under test is also collected. The user of the instrument can choose to recall all test results, or only pass or fail results. The 256 MB flash memory stick is then used to download the card's internal memory.
The PS/2 input allows for bar code scanning directly from the tester. The bar code scanner will scan the model and/or serial number of the DUT allowing manufacturers to associate test data specific to that device. This data is then stored in the Data storage card's internal memory. With a bar code scanner, users will also be able to initiate test programs that are saved in the testing instrument's memory. This allows manufacturers to test multiple products on a single station much more efficiently as saved test programs can be recalled using the bar code scanner.
You have successfully added from to your part list.
---