Linear Actuators - High-Thrust
Product Announcement from ATLANTA Drive Systems, Inc.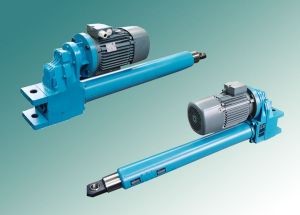 Atlanta Drive Systems - High-Thrust Linear Actuators offer clean, precise linear positioning by means of a trapezoidal-thread spindles (for intermittent duty applications) and ballscrew spindles (for higher duty applications). Linear speeds up to 550 inches per minute and strokes up to 20 inches are available standard, with axial load capacities up to 36,000 lb. For higher load capacities, two actuators can be used in tandem to share the loads.
Applications requiring precise, controlled linear motion with a high degree of safety are perfect for these drives. Typical applications include sheet metal bending, hydraulic cylinder replacements, conveyor tensioning, and scissor-lift table drives. Industries served include Material Handling, Automation and Automotive.
The actuators consist of a reduction gearbox (the in-line units utilize a two-stage planetary gearbox and the offset units utilize a three stage spur gearbox) and motor, driving either a trapezoidal-thread or ballscrew spindle. The spindles can be directly driven or non-rotating, where the nut is driven instead. They are protected against contamination by bellows or protective tubes and are continuously lubricated with an automatic lubrication system.
These actuators also include safety devices to track the spindle travel position and any wear of the supporting nut. Additional safety can be realized with an internal safety nut in case of failure of the supporting nut. The actuators can be self-locking (the axial load will not back drive the gearbox and motor), which is critical for machines that must hold a load stationary even with a loss of power.
You have successfully added from to your part list.
---