Firefighter's Smoke Control Override Panel
Product Announcement from Automation Displays, Inc.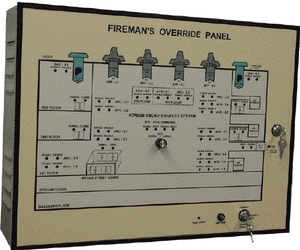 The Firefighter's Smoke Control Override Panel manufactured by Automation Displays, Inc. provides a user-friendly interface to the HVAC system for firefighters to use in smoke control. Switches are provided for fan and damper control, while high intensity LEDs indicate the status of fans and dampers. A multi-color graphic depicting the building provides a clear picture relating each switch and indicator to the appropriate floor or building zone. Critical areas like stairways, elevator shafts, main fresh air ducts, and main exhaust ducts are highlighted by use of distinct colors.

To order a Firefighter's Smoke Control Override Panel, the customer provides a sketch of the building, switch type and location, and LED locations. Automation Displays, Inc. will then design and manufacture the panel to the customer's specification. These cost efficient panels provide an easy to use and practical HVAC interface to any fire control room.

UL 864 UUKL Listed Firefighter's Smoke Control Override Panel operates as a part of a UL Listed smoke control system. Please contact Automation Displays, Inc. for more details on having your Firefighter's Smoke Control Override Station (FSCS) UL 864 UUKL Listed.

Design Data

The Firefighter's Smoke Control Override Panel surface is a 7-mil multi-colored polyester film, which is protected by a non-glare urethane textured coating. The artwork can be black lines and legends with multi-colored background or a black background with multi-colored lines and legends. Customers may choose from ADI's chart of 22 standard colors. The film is bonded to a .125" clear irridited aluminum back plate. Holes are drilled in the aluminum plate for the switches and the high intensity LEDs. LEDs do not protrude through the polyester fifi lm so the front surface is easily cleaned. An attractive aluminum frame finished in a clear or black anodizing enhances and protects the edge of the panel.

ON-AUTO-OFF fan control and OPEN-AUTOCLOSE damper control is accomplished with three position rotary switches. Four position switches are used for dampers when PURGEAUTO- PRESSURIZE-OFF operation is required. The switches are wired to terminals, ADI Z-Card Serial Interface, or customer supplied electronics which are all subplate mounted in the enclosure. A pushbutton is supplied for testing the LEDs.

High intensity LEDs are available in red, green, amber, yellow and blue. T-1 3/4 LEDs are mounted on printed circuit boards. The printed circuit boards are mounted to the aluminum backplate with machine screws. Voltage dropping resistors for operation at 24VDC, 12VDC or 5VDC and diodes for LED test also are mounted on the printed circuit boards.

The enclosure can be a standard ADI flush or surface mount backbox. The standard enclosures range in size from Size A (small) 24"w x 36"h to 36"h x 24"w, Size B (medium) 36"w x 48"h to 48"w x 36"h, Size C (large) 48"w x 60"h to 60"w x 48". ADI also can provide larger enclosures or enclosures with special features such as security doors. Steel construction is the most common but aluminum and stainless steel construction are also available. All enclosures are constructed according to UL 864 Section 7 specifications.

Options

Electrical Options
LED test function
Multiple commons
Mounting and wiring of customer furnished driver assemblies
UL® Listing
California State Fire Marshal Listing
DC power supply/DC converter
ADI Z-Card Serial Interface
Mechanical Options
Toggle switches
NEMA 1 rating
Stainless steel enclosure
Stainless steel frame
Security door, with or without a viewing window
Custom sized panels and enclosures
Rack mount
Control console mount
Floor mount cabinets
Flush or wall mount enclosure
You have successfully added from to your part list.
---