AFBR-5972Z Transceiver - Fast Ethernet over POF
Product Announcement from Avago Technologies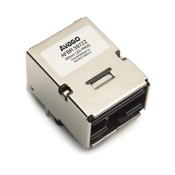 New Avago Technologies Transceiver Delivers Fast Ethernet Communication over Robust Plastic Optical Fiber Connectors.
Small-Footprint Device Offers Reliable Data Transmission at up to 100 Mbps for Industrial Automation and Renewable Energy Applications.
The new AFBR-5972Z transceiver provides the ability to implement fast communication up to 100 Mbps and is suitable for networking in harsh environments such as factory automation or power generation and distribution applications. Featuring a compact design using an Avago Versatile Link duplex connector, the transceiver reduces board footprint.
CLICK HERE TO REQUEST A FREE SAMPLE
CLICK HERE FOR PRODUCT ON AVAGO.COM
An extension of the proven Versatile Link connector series, the AFBR-5972Z transceiver eliminates the electromagnetic interference, crosstalk, and electrical ground problems that are common with copper wire solutions, while also providing easier, more flexible installation. The transceiver's new AFBR-4526Z duplex connector is similar in size to electrical RJ-45 sockets and is compatible with existing simplex Versatile Link connectors. In addition to the smaller size, the transceiver is more cost-efficient than comparable PROFINET industrial Ethernet standard connector solutions. Offering robust operation in the -40° to +85° C extended industrial temperature range, the device is suitable for industrial applications and supports various Ethernet Fieldbus protocols and is compatible with quasi-industry standard IEEE 802.3 100BASE-FX.

The AFBR-5972Z device's transmitter is based on a high-power, 650-nm LED with an integrated driver that operates at 3.3V. The transmitter receives a LVPECL/LVDS electrical input and converts it into a modulated current, driving the LED. The LVPECL digital interface enables a direct connection to Ethernet PHY ICs. The high-bandwidth receiver contains a PIN photodiode. The PIN photodiode is packaged in an optical subassembly that couples the optical power efficiently from POF fiber to the receiving PIN.

Additional AFBR-5972Z Product Features
• Link lengths up to 50m POF (NA0.5) or 70m POF (NA0.3)
• Lead-free and RoHS-compliant
• LVPECL signal detect output
You have successfully added from to your part list.
---