AFBR-79E4Z-D 40 Gigabit Ethernet 40GBASE-SR4 QSFP
Product Announcement from Avago Technologies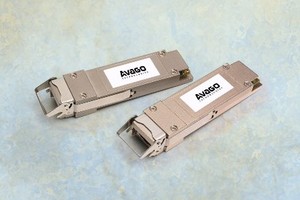 Avago Technologies Introduces Industry's First Optical Module to Enable Multimode 40-Gbps Ethernet Uplink Applications.
New QSFP+ Transceiver Modules' Four 10-Gbps Data Lanes Address Copper Interconnect Bandwidth-Shortfall for Multi-Lane Data Communication Applications.
Avago Technologies (Nasdaq: AVGO), a leading supplier of analog interface components for communications, industrial and consumer applications, today announced availability of a four-channel parallel optic QSFP+ transceiver module for 40 Gigabit Ethernet applications, here at the Super Computing 2010 conference. The new AFBR-79E4Z QSFP+ transceiver modules enable data communication and interconnect applications that integrate four independent 10 Gigabit per second (Gbps) data lanes in each direction to provide 40 Gbps aggregate bandwidth. The pluggable modules also provide an ideal alternative to copper interconnects for switch and router connections, data aggregation systems and backplane applications.

CLICK HERE TO REQUEST A FREE SAMPLE
CLICK HERE FOR PRODUCT ON AVAGO.COM
The proliferation of videos and multimedia files in business environments is placing a premium on bandwidth and density in data centers and high performance computing applications. Copper interconnects present significant challenges to achieve 40 Gbps bandwidth performance, and their power and size requirements are inefficient for higher-bandwidth applications. As a result, system designers are making the transition to optical interconnects, which handle much higher bandwidths for longer reach lengths, consume less power, improve electromagnetic noise resistance and provide more flexible cable management than copper-based solutions.

"Avago has a long history of optical fiber firsts going back to our HP roots, and we are pleased to add this new 40 Gigabit Ethernet QSFP+ transceiver solution to the list," said Tina Ohlhaver, marketing manager for fiber optic products at Avago. "Avago is uniquely positioned to bring such innovative fiber optics to market with the unmatched reliability of our in-house laser technology and our IC know-how."

The AFBR-79E4Z QSFP+ modules are fully compliant to the IEEE 802.3ba 40GBASE SR4 specification, and they support the IBTA 4 x 10G QDR for Infiniband applications. The modules provide designers with maximum flexibility to support installations of varying cable links or for difficult cable plant installations. With data rates of 10 Gbps for up to 100 meters using OM3 fiber or 150 meters using OM4 fiber, the QSFP+ modules operate over multimode fiber systems using a nominal wavelength of 850 nm. The modules' electrical interface uses a 38 contact edge type connector while the optical interface uses either an 8 or 12 fiber MTP® (MPO) connector.

The Avago AFBR-79E4Z QSFP+ transceiver modules provide superior electro-optical noise-immunity to enable the optimal jitter performance required for high speed computing, server clustering, Infiniband and Ethernet switching and core routers. Additionally, the transceivers are hot pluggable for ease of installation and servicing, and are backward compatible with 5 and 2.5 Gbps per channel applications.

Avago is demonstrating its QSFP+ transceiver technology for 40 Gigabit Ethernet applications connected to an Infiniband switch using its newly-announced CXP form-factor technology, in addition to demonstrating other high-speed optical fiber solutions, at Super Computing 2010 in booth number 1328 at the Ernest N. Morial Convention Center from November 16-19.

Additional AFBR-79E4Z/-79E4Z-D Product Features
• Maximum power consumption under 1.5W
• High port density with 21 mm horizontal port pitch
• 0 to 70° C case temperature operating range
• The AFBR-79E4Z-D transceiver features full real-time digital diagnostic monitoring
You have successfully added from to your part list.
---