Product Announcement from Avago Technologies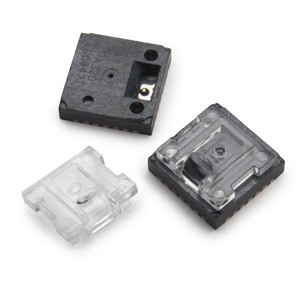 With the proliferation of the smart phone market, Optical Finger Navigation (OFN) technology is necessary due to the extensive use of data centric tasks such as email and browsing applications. Major mobile device manufacturers have begun to replace 5-way rocker switches and trackballs with OFN-based solutions. With the successful adoption of OFN technology, electronic device manufacturers are now shipping millions of mobile devices and other handheld electronic devices to customers throughout the world. And, Avago remains committed to make investments in Optical Finger Navigation innovation and technology leadership.

Avago's ADBS-A320 Optical Finger Navigation sensoroffers a compact, precise, fast speed and highly reliable navigation solution, which will help enhance overall system performance. Capable of high-speed motion detection of up to 15 inches per second (ips), this sensoralso has an on-chip oscillator and integrated LED to minimize external components. With a new, low-power architecture and automatic power management modes, the ADBS-A320 device is suitable for use in battery and power-sensitive applications.

Due to the fact that there are no moving parts, designers can benefit from a device that is highly reliable and requires little or no maintenance. And, precision optical alignment is not required which helps enable high-volume assembly. Our Optical Finger Navigation sensorsolution is user-friendly and can be used in electronic devices such as mobile phones, MP3 players, ultra-miniature PCs, game pads, digital cameras and keyboards.

The ADBS-A320 Optical Finger Navigation sensor is designed to be used with our ADBL-A321 lens, which is the optical component necessary for proper operation of the sensor.
Learn more about the ADBS-A320 optical finger navigation sensor or request your FREE sample today.
You have successfully added from to your part list.
---