Product Announcement from Avago Technologies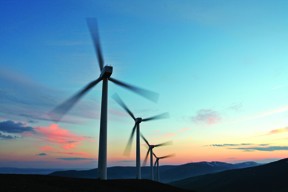 Global warming and climate changes from CO2 emissions of traditional energy sources, such as those powered by fossil fuels, have created huge markets for alternative power generation. Wind turbine energy has become a popular alternative to meet the fast growing energy demand. Unlike fossil fuels, which are a limited and diminishing resource, wind energy is limitless and readily available.
TO REQUEST A PRODUCT SAMPLE - CLICK HERE
Key applications for industrial fiber optic components in wind turbine systems include:
Power electronic gate driver for rectifiers and inverters
Control and communication boards
Turbine control units
Condition monitoring systems
Wind farm networking
Wind Turbine Power Generation
Wind turbine is used to convert kinetic energy into electrical energy through use of a generator. As wind conditions vary, the electrical energy created from the generator needs to be converted for usability. A rectifier, inverter , transformer and filter are needed within the wind turbine, in order for utility-grade AC power to be transmitted over long distances
A transformer is usually installed at the bottom of the tower to provide voltage conversion from the low voltage generated by the wind turbine, to medium/high voltage for transmission.
Additional Information:
To Learn More About Avago Technologies recommended PRODUCT SOLUTIONS - CLICK HERE
For additional information from Avago's WHITEPAPER, CLICK HERE
For Alternative Power VIDEO ACCESS, CLICK HERE
You have successfully added from to your part list.

Play Reliable Fiber Optics Solutions for Wind Turbines Video
---