Product Announcement from Avantes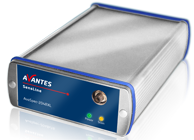 The AvaSpec-ULS2048XLFiber Optic Spectrometer is a high speed instrument which also combines excellent sensitivity in the UV and NIR wavelengths. The detector pixels in the AvaSpec-ULS2048XL measure 14 μm wide X 500μm high.
The instrument's optical design is based on the AvaBench-75ULS Ultra Low Straylight symmetrical Czerny-Turner design. The linear array of 2048 pixels is suitable for higher speed triggering. This instrument replaces on our other back-thinned CCDs which utilize vertical binning of a two dimensional array.
Additionally the detector is equipped with an on chip electronic shutter which supports integration times as low as 2 μs. The spectrometer has a fiber optic entrance connector (standard SMA, other options available), collimating and focusing mirrors and is available with choice of 16 different standard diffraction gratings to enable applications in the 200-1160nm range. The AvaSpec-ULS2048XL comes with a 16 bit AD converter, and USB2.0 high speed interface. This instrument is especially suitable for high speed measurements such as laser induced breakdown spectroscopy (LIBS) or pulsed light source measurements. The detector has superior response over standard CCDs in the UV and NIR ranges. Digital IO ports enable external triggering and control of shutters and pulsed light sources from the Avantes line of instruments.
Optional Bluetooth (-BT) communication and an SD card for on-board storage of spectra are available.
The AvaSpec-ULS2048XL runs on USB power and comes with AvaSoft-basic, a complete manual and USB interface cable. Multiple USB2 spectrometers with different detector types can be externally coupled.
You have successfully added from to your part list.
---