Flexform® Sheet Metal Forming Presses
Product Announcement from Avure Technologies, Inc.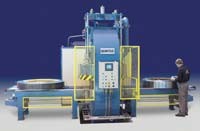 Fluid cell pressing (Flexforming) is a low-cost sheet metal forming process designed for both prototyping and lower volume parts production. Avure Technologies has designed, built and installed more than 150 Flexform fluid cell presses for major manufacturers worldwide, including Airbus, Ford, Boeing, Daimler-Benz, Bombardier, BMW, Embraer and Volvo, along with a growing number of component suppliers to the aerospace and automotive industries.
Flexforming employs a soft rubber diaphragm filled with highly pressurized fluid to press flat metal blanks uniformly into and around a lower tool half, which can be a punch or die. The benefits of this process are numerous:
• Savings from 50 to 90 percent in tooling costs compared to stamping presses
• Complex shapes formed to close assembly tolerances
• Finished parts directly off the press with little or no manual rework
• Multiple parts per cycle for increased throughput and productivity
• Quick tool setup and fast cycles for shorter part lead times
• Versatile process forms virtually any sheet metal up to 16mm thick
• Design flexibility permits combining of smaller parts into large seamless components
• Smooth surface finishes free from scratches or gall marks
You have successfully added from to your part list.
---