Actuator With Magnetic Spring Technology
Product Announcement from BEI Kimco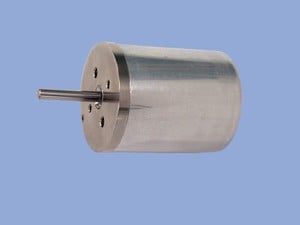 BEI Kimco Magnetics, a company of Custom Sensors & Technologies (CST), Inc., recently met the challenging valve control actuator requirements for a medical ventilator system for critical care patients. Two Kimco Voice Coil Actuators support different functions within the ventilator. One actuator controls the diaphragm valves that regulate the air pressure within the patient's lungs during the inhalation and exhalation cycles. A second actuator operates a safety valve that diverts the air flow around the ventilator in the event of a system malfunction or power failure. Both actuators incorporate a magnetic spring that establishes the preferred or home position. This feature was an important design element to support maximum battery life and the fail-safe valve mechanism.
Key to the ventilator's design specification was to develop a highly reliable Voice Coil Actuator that would provide exceptional repeatability and reduced power consumption when compared to competing technologies. To meet these requirements, BEI Kimco developed the VCA LA16 series with a patented Magnetic Spring.
"The magnetic spring eliminates the need for a mechanical return spring or alternative option which may fatigue or fail," explains Jim McNamara, BEI Kimco Applications Engineer. "Over time, these mechanical type springs exhibit wear and tear, resulting in a reduced spring constant that causes undesirable performance deviations, especially critical for medical equipment operation".
The actuator's performance characteristics included a 6 mm stroke, a peak force of 60 N, and a continuous force of 17 N. Small size featured an outside diameter of just 40.6 mm and a length of 46 mm. BEI Kimco's VCA with magnetic spring can be customized to individual applications with customer-specified actuator size, stroke, stall force, peak force, and other key performance requirements.
See BEI Kimco's LA16 VCA as highlighted on Electronic Products web site at www2.electronicproducts.com/-article-CSJH01_Sep2010.html.aspx
For more information contact BEI Kimco Magnetics, 1499 Poinsettia Ave. Suite 160, Vista, CA 92081-8430, USA, Tel: (760) 597-7042; Toll-free: (800) 572-7560; Fax: (760) 597-6320; email: sales@beikimco.com; www.beikimco.com
About BEI Kimco Magnetics:
BEI Kimco Magnetics is an operation of Custom Sensors & Technologies (CST). BEI Kimco Magnetics was founded in 1974 and specializes in rotary and linear motion control products. The company's precision motion control products include high-speed performance Brushless DC motors, Cylindrical and Flat Voice Coil Actuators, and Linear Motors. These products are used across a wide range of applications including medical and scientific, factory and office automation, optics, semiconductor/electronics, military, aviation, space systems, and security. Kimco merges leading-edge capabilities and cost-effective manufacturing know-how with highly customized applications expertise. www.beikimco.com
About Custom Sensors & Technologies:
Custom Sensors & Technologies (CST) is a specialist in sensing, control and motion products.
Through its brands, BEI Kimco, BEI Sensors, BEI PSSC, Crouzet, Crydom, Kavlico, Newall and Systron Donner, CST offers customizable, reliable and efficient components for mission-critical systems in Industrial, Aerospace & Defense, and Transportation markets. Focused on premium value offers and committed to excellence, CST, with more than 4,000 employees worldwide and sales of $530M US in 2009, is the dependable and adaptable partner for the most demanding customers. www.cstsensors.com
---