Product Announcement from BEI Kimco Magnetics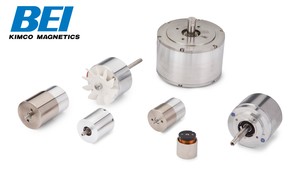 Customer Requirements Spark New Innovations in Motion Control Technology
New products that are smaller, faster or in some respect better than existing technology are always in demand. If a product equals existing technology, but is somehow produced more economically, it's also a hot button for medical designers looking for quality and economy. In many other cases, however, a new product is developed solely to meet the engineering requirements for a specific new product design or re-design. In these cases, it's a win-win. The engineer creates the need for innovation and receives a solution to his specific requirement, while new technology advancement is made for the industry at large.
BEI Kimco engineers have experience working on a number of ventilator applications, but were faced with the particular challenge of meeting a valve control actuator requirement for a medical ventilator system used for critical care patients. In this case, the customer was using a stepper motor and lead screw mechanical arrangement to produce the linear motion required for the application. However, speed wasn't as high as desired and the overall package was cumbersome. Additionally, the customer wanted higher reliability and reduced power consumption.
The first challenge for BEI Kimco engineers was to design a self aligned, housed actuator capable of producing 15 N of peak force within a 40.6mm diameter size. The second challenge was to meet the aggressive speed requirement.
To accomplish these goals, engineers developed the Voice Coil Actuator (VCA) LA16 series with a patented Magnetic Spring. The magnetic spring eliminated the need for a mechanical return spring or alternative option which may fatigue or fail. Over time, these mechanical type springs exhibit wear and tear, resulting in a reduced spring constant that causes undesirable performance deviations, especially critical for medical equipment operation. The magnetic spring design was an important design element to support maximum battery life and the fail-safe valve mechanism.
The resulting performance characteristics included a 6 mm stroke, a peak force of 60 N, and a continuous force of 17 N. Small size featured an outside diameter of just 40.6 mm and a length of 46 mm.
The new ventilator uses two LA16 Actuators to support different functions within the ventilator. One actuator controls the diaphragm valves that regulate the air pressure within the patient's lungs during the inhalation and exhalation cycles. The second actuator operates a safety valve that diverts the air flow around the ventilator in the event of a system malfunction or power failure.
By using the newly developed actuators, the customer was able to increase the valve actuation speed and simplify the assembly because of the direct drive advantage. Other benefits were better resolution and control.
Supplying a motor that would meet the requirements for a revolutionary cast removal system for a leading medical device manufacturer was another technology challenge that led to exciting innovation.
The new cast removal system was developed as part of the manufacturer's continuing goal to develop products that reduce trauma for pediatric patients. The new tool has provided an alternative to the autopsy saw method that has been used for 40-years, which expose the patient to extremely high temperature and noise levels. The new approach uses a proprietary feed wheel which fractures or breaks apart, rather than cuts the cast material.
The motor was designed to deliver consistently high torques to drive through several layers of cast material. It was also critical for the motor to be compact, lightweight and capable of extended battery operation. To meet these requirements, BEI Kimco developed the High Performance Size 23 BLDC Motor with customized housing and shaft. The High Torque Density design delivers continuous power levels approaching 1 HP at speeds up to 20K RPM. Its compact size of just 2.3" O.D x 3.0" L with operating efficiencies in excess of 85%, resulted in a highly satisfactory motor solution - a motor powerful enough to drive the feed wheel yet small enough to support the ergonomics of the final product for a cool running, comfortable patient solution. The motor's competitive price point easily allowed volume production of the new cast removal device.
"It was extremely satisfying to be involved in a project that ultimately reduced trauma for children needing cast removal," says Walter Smith, BEI Kimco's Senior Applications Engineer/Project Manager for Motors. "With our ability to adapt standard motors to meet specific customer needs, we are able to work with medical device manufacturers and other industry designers to consistently meet unique requirements."
Conclusion
When a customer has a specific need, the engineer is faced with the challenge of improving technology to meet that demand. For BEI Kimco, these challenges are on-going and create a continually evolving product line.
About BEI Kimco Magnetics:
BEI Kimco Magnetics specializes in the design and manufacture of high performance rotary and linear motion components, including Brushless DC Motors and Voice Coil Actuators. These products are designed for applications where performance, precision, and reliability are critical. Using proprietary magnetic design methodologies, BEI Kimco Magnetics has the ability to produce custom, cost efficient products within multiple manufacturing locations. BEI Kimco Magnetics is a leader in medical, industrial, aerospace & defense markets.
BEI Kimco Magnetics is a brand of Custom Sensors & Technologies (CST).
About Custom Sensors & Technologies
Custom Sensors & Technologies (CST) is a specialist in sensing, control and motion products.
Through its brands, BEI Kimco, BEI Sensors, BEI PSSC, Crouzet, Crydom, Kavlico, Newall and Systron Donner Inertial, CST offers customizable, reliable and efficient components for mission-critical systems in Aerospace & Defense, Transportation, Energy & Infrastructure, Medical, Food and Beverage and Building Equipment markets.
Focused on premium value offers and committed to excellence, CST, with 4,500 employees worldwide and sales of $599.5M US in 2013, is the dependable and adaptable partner for the most demanding customers.
You have successfully added from to your part list.

Play Device Makers Spark Innovations in Motion Control Video
---