High Force Moving Magnet VCA With Latching Design
Product Announcement from BEI Kimco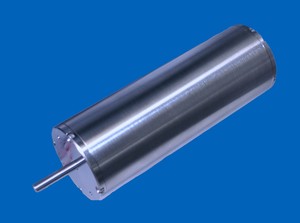 BEI Kimco Magnetics Introduces High Force Moving Magnet Voice Coil Actuator Featuring Patented Latching Design for De-Energized Position Control
BEI Kimco Magnetics, a brand of Custom Sensors & Technologies (CST), Inc., has introduced a Moving Magnet Linear Voice Coil Actuator featuring a patented design that incorporates magnetic latches at each end of travel. The new design provides an ideal solution for critical applications where there is a specific 'stop' position desired when the coil is de-energized. Typical uses include applications for proportional valve control, circuit breakers, and load movement in commercial, industrial and military industries.
"Traditionally, one of the appeals of a voice coil actuator (VCA) has been that it doesn't have to be in any particular position when the coil is de-energized – it simply 'floats'" explains Jim McNamara, BEI Kimco Senior Applications Engineer. "However, in many applications, a certain position is required when de-energized. BEI Kimco's new LAH24-67-000A VCA provides this capability; thereby broadening the scope of applications where moving magnet technology is suitable while still providing all the benefits intrinsic to voice coil technology."
The LAH24-67-000A provides 0.44" travel with 115 lbs. peak force and 37 lbs. continuous force in a compact footprint of just 2.4 inches in diameter. The surprisingly high force output given its diameter size is achieved with the devices' split coil, also patented by BEI Kimco Magnetics. The split coil concept (in this case five coils) is akin to using multiple actuators in parallel, allowing the force to multiply without increasing the stroke.
The new VCA features all the inherent advantages of voice coil technology including direct-drive, hysteresis-free operation for highly accurate motion. Other advantages of this type of technology include high acceleration, absence of commutation, and excellent resolution limited only by the encoder used for feedback. Its moving magnet design allows the device to run at higher duty cycles than non-moving magnet actuator styles.
Inventor of the Moving Magnet Linear Voice Coil Actuator with Latching Feature Patent, Mikhail Godkin, Engineering Manager at BEI Kimco Magnetics, has developed a total of 15 patents. According to Godkin, the challenge for this particular VCA design was creating a mechanism so that the position, when the coil was de-energized, could be predetermined for critical applications. "This is a great enhancement to the VCA product line," he says. "With this added function, it opens a whole new range of applications for voice coil actuators."
For further information contact BEI Kimco Magnetics, 1499 Poinsettia Ave., Suite 160, Vista, CA 92081, USA, Tel: (760) 597-7042; Toll-free: (800) 572-7560; Fax: (760) 597-6320; email: sales@beikimco.com; www.beikimco.com.
About BEI Kimco Magnetics:
BEI Kimco Magnetics is a brand of Custom Sensors & Technologies (CST). BEI Kimco Magnetics was founded in 1974 and specializes in rotary and linear motion control products. The company's precision motion control products include high-speed performance Brushless DC motors, Cylindrical and Flat Voice Coil Actuators, and Linear Motors. These products are used across a wide range of applications including medical and scientific, factory and office automation, optics, semiconductor/electronics, military, aviation, space systems, and security. Kimco merges leading-edge capabilities and cost-effective manufacturing know-how with highly customized applications expertise. www.beikimco.com
About Custom Sensors & Technologies:
Custom Sensors & Technologies (CST) is a specialist in sensing, control and motion products. Through its brands, BEI Kimco, BEI Sensors, BEI PSSC, Crouzet, Crydom, Kavlico, Newall and Systron Donner Inertial, CST offers customizable, reliable and efficient components for mission-critical systems in Aerospace & Defense, Transportation, Energy & Infrastructures, Commercial & Industrial OEMs, Medical, Food and Beverage and Building Management markets.
Focused on premium value offers and committed to excellence, CST, with more than 4,300 employees worldwide and sales of $571M US in 2010, is the dependable and adaptable partner for the most demanding customers. www.cstsensors.com
---