Housed VCA Featuring Up To 310 lbs Of Peak Force
Product Announcement from BEI Kimco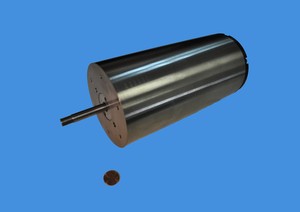 BEI Kimco Magnetics Introduces Housed Voice Coil Actuator Featuring High Performance Capabilities of Up to 310 Pounds Peak Force
BEI Kimco Magnetics, a company of Custom Sensors & Technologies (CST), Inc., has introduced the LAH43-86-000A High Force Housed Actuator as the latest addition to its ever growing line of housed linear actuators. The newest model has the highest force capability of the family as well as self alignment features.
The LAH43-86-000A VCA produces 310 lbs. of peak force (80 lbs. continuously) with ±0.625 inches of stroke. The unit's self-aligning feature allows customer to easily adapt it to new applications, rather than having to provide their own alignment system for un-housed actuators. Additionally, the inherent benefits of voice coil technology result in a controllable product that can achieve high accelerations.
The advantages of voice coil technology, as well as the self-alignment feature, make the new VCA well suited for valve actuation, pick and place, mirror steering, pumps for metering and dosing in a wide range of equipment found in such industries as industrial, medical, scientific, semiconductor/electronics, military and aerospace.
""The new VCA was developed as a natural progression in expanding our capabilities and product offering," says Jim McNamara, Senior Applications Engineer and Project Manager for BEI Kimco Voice Coil Actuators. "The superior performance it provides in a housed self aligning package makes it a unique product on the market."
BEI Kimco products have been used successfully in countless applications from high-end Industrial to Military and Aerospace to Medical applications. The ability to provide high performance solutions tailored to the specific needs of the customer has allowed BEI Kimco to fulfill many challenging requirements.
For further information contact BEI Kimco Magnetics, 1499 Poinsettia Ave., Suite 160, Vista, CA 92081, USA, Tel: (760) 597-7042; Toll-free: (800) 572-7560; Fax: (760) 597-6320; email: sales@beikimco.com; www.beikimco.com;
About BEI Kimco Magnetics:
BEI Kimco Magnetics is an operation of Custom Sensors & Technologies (CST). BEI Kimco Magnetics was founded in 1974 and specializes in rotary and linear motion control products. The company's precision motion control products include high-speed performance Brushless DC motors, Cylindrical and Flat Voice Coil Actuators, and Linear Motors. These products are used across a wide range of applications including medical and scientific, factory and office automation, optics, semiconductor/electronics, military, aviation, space systems, and security. Kimco merges leading-edge capabilities and cost-effective manufacturing know-how with highly customized applications expertise. www.beikimco.com
About Custom Sensors & Technologies:
Custom Sensors & Technologies (CST) is a specialist in sensing, control and motion products. Through its brands, BEI Kimco, BEI Sensors, BEI PSSC, Crouzet, Crydom, Kavlico, Newall and Systron Donner Inertial, CST offers customizable, reliable and efficient components for mission-critical systems in Aerospace & Defense, Transportation, Energy & Infrastructures, Commercial & Industrial OEMs, Medical, Food and Beverage and Building Management markets.
Focused on premium value offers and committed to excellence, CST, with more than 4,300 employees worldwide and sales of $571M US in 2010, is the dependable and adaptable partner for the most demanding customers. www.cstsensors.com
---