Linear Actuator Packs Powerful Force of 500 lbs.
Product Announcement from BEI Kimco Magnetics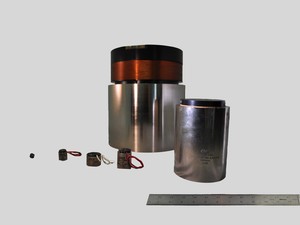 BEI Kimco Magnetics' New Linear Actuator Packs Powerful Peak Force of 500 lbs.
VISTA, Calif., − Oct. 5, 2012 – BEI Kimco Magnetics, a brand of Custom Sensors & Technologies (CST), Inc., has introduced the powerful High Force Linear Actuator Model LA100-93-000A. The new actuator packs a peak force of 500 lbs, a strength that typically requires two actuators to achieve. With approximately two times both peak and continuous force ratings compared to BEI Kimco's previous models, the device is a significant advancement in the product offering.
In addition to its extremely high peak force rating, the actuator features a continuous force of 292 lbs. with 2-inch total stroke. Other important characteristics include semi-housed construction with built in shaft and bushings that orient the coil assembly concentric to the field assembly. This key design attribute makes actuator mounting fast and easy for the customer. The unit measures 10 inches in diameter and 9.3 inches long at mid stroke.
"The LA100 VCA is very similar in construction to our smaller actuators but bigger by a factor of two – it's basically two actuators in one," points out Jim McNamara, Senior Applications Engineer VCA. "This capability expands our application versatility. Unique to the market, there are other actuators with 500 lbs. of force, but none that we know of that also provide a 2-inch stroke," he states.
The LA100 is suitable for use in applications that require an actuator force of 500 lbs. and high speed. Typical uses include environmental stress testing for lab equipment and military and aerospace equipment, as well as other applications in industrial, medical and testing environments.
For further information contact BEI Kimco Magnetics, 1499 Poinsettia Ave., Suite 160, Vista, CA 92081, USA, Tel: (760) 597-7042; Toll-free: (800) 572-7560; Fax: (760) 597-6320; email: sales@beikimco.com; www.beikimco.com.
About BEI Kimco Magnetics:
BEI Kimco Magnetics is a brand of Custom Sensors & Technologies (CST). BEI Kimco Magnetics was founded in 1974 and specializes in rotary and linear motion control products. The company's precision motion control products include high-speed performance Brushless DC motors, Cylindrical and Flat Voice Coil Actuators, and Linear Motors. These products are used across a wide range of applications including medical and scientific, factory and office automation, optics, semiconductor/electronics, military, aviation, space systems, and security. Kimco merges leading-edge capabilities and cost-effective manufacturing know-how with highly customized applications expertise. www.beikimco.com
About Custom Sensors & Technologies:
Custom Sensors & Technologies (CST) is a specialist in sensing, control and motion products. Through its brands, BEI Kimco, BEI Sensors, BEI PSSC, Crouzet, Crydom, Kavlico, Newall and Systron Donner Inertial, CST offers customizable, reliable and efficient components for mission-critical systems in Aerospace & Defense, Transportation, Energy & Infrastructures, Commercial & Industrial OEMs, Medical, Food and Beverage and Building Equipment markets.

Focused on premium value offers and committed to excellence, CST, with 4,700 employees worldwide and sales of $660M US in 2011, is the dependable and adaptable partner for the most demanding customers. www.cstsensors.com
You have successfully added from to your part list.
---