Product Announcement from BEI Kimco Magnetics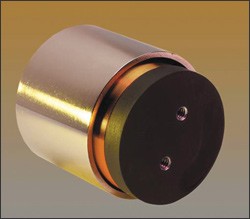 VISTA, Calif., - October 2, 2008 - BEI Kimco Magnetics, a company of Custom Sensors & Technologies (CST), has introduced a new compact sized, high force, cylindrical Voice Coil Actuator (VCA) in response to market demand for improved consistency and precision in valve control and beam steering applications. Typical uses include analytical/test and measurement equipment for the pharmaceutical, R&D, laboratories, and medical industries.
Designed with high force sensitivity in a lightweight housing, the new actuator provides extremely fast control of valve opening and closing, thereby increasing throughput for OEMs looking to improve production and reduce product time to market. Used in conjunction with a high performance motion controller or other device, the actuator is capable of providing precise positioning, velocity, and acceleration in applications where exacting precision is critical.
The new voice coil actuator is available in small sizes from 1-inch OD to 1-1/2-inch OD for installation into products with tight space constraints. Features include stroke lengths ranging from 0 to 1.27 mm, force versus position curve characteristic, continuous force of 1 to 5 N, cog and hysteresis-free operation, and tight tolerances. The unit can be ordered in a variety of materials, allowing the OEM to select an actuator that is compatible with the type of sample being tested at the final point of use.
"Chemical compatibility is an important aspect for many of these types of applications," explains Miguel Hermosillo, Application Sales Engineer for BEI Kimco. "To address this, BEI Kimco provides a variety of material choices for the customer to select from, thereby ensuring compatibility between the chemical being tested and the actuator itself."
In addition to material choices, several other product configurations are available. Customers can select the lead, stroke length, voltage, shaft, and linear or rotary design that meets their specific application requirement. "This versatility allows us to meet the variety of anticipated customer requirements for unique uses," adds Hermosillo.
The new voice coil actuator is competitively priced in production quantities with lead times of stock to eight weeks.
For a PDF data sheet - click here
For more on linear voice coil actuators (VCA), see our cylindrical actuators product page
http://www.beikimco.com/actuators_linear.php
For more information contact BEI Kimco Magnetics, 2470 Coral Street, Bldg. D, Vista, CA 92081-8430, USA, Tel: (760) 597-7042; Toll-free: (800) 572-7560; Fax: (760) 597-6320; email: sales@beikimco.com; www.beikimco.com
About BEI Kimco Magnetics:
BEI Kimco Magnetics is an operation of Custom Sensors & Technologies (CST). BEI Kimco Magnetics was founded in 1974 and specializes in rotary and linear motion control products. The company's precision motion control products include high-speed performance Brushless DC motors, Cylindrical and Flat Voice Coil Actuators, and Linear Motors. These products are used across a wide range of applications including medical and scientific, factory and office automation, optics, semiconductor/electronics, military, aviation, space systems, and security. Kimco merges leading-edge capabilities and cost-effective manufacturing know-how with highly customized applications expertise. www.beikimco.com
About Custom Sensors & Technologies:
Custom Sensors & Technologies (CST) is a specialist in sensing, control and motion products.
Through its brands, BEI Kimco, BEI Sensors, BEI PSSC, Crouzet, Crydom, Kavlico, Newall and Systron Donner, CST offers customizable, reliable and efficient components for mission-critical systems in Industrial, Aerospace & Defense, and Transportation markets. Focused on premium value offers and committed to excellence, CST, with more than 4,000 employees worldwide and sales of $530M US in 2009, is the dependable and adaptable partner for the most demanding customers. www.cstsensors.com
You have successfully added from to your part list.
---