Product Announcement from BEI Kimco Magnetics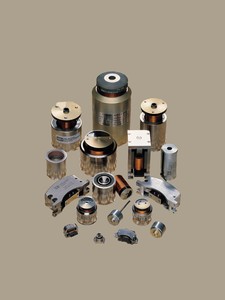 VISTA, Calif., − May 8, 2012 - BEI Kimco Magnetics, a brand of Custom Sensors & Technologies (CST), announced today the Voice Coil Actuator (VCA) Stock Program. Designed to reduce lead time, the new stock program offers customers express VCA delivery.
"The new program identifies the most frequently used products and defines the safety stock quantity for each model," explains Gareth Yiu, Product Marketing Specialist. "The ultimate goal is to provide customers with the confidence that the product they need is in stock and can be processed within hours of order entry."
Engineers can now have the product in hand for prototyping, beta testing, and pilot production without waiting the standard 12-week production time. Delivery can be shortened by up to 80%. This improves BEI Kimco's response time and allows customers to better manage their design process, especially during the critical stage in their - design cycle.
Included in the stocking program are over 30 voice coil actuator models covering the company's Rotary and Linear products - cylindrical un-housed, cylindrical semi-housed, and cylindrical housed actuators. For more information, call 800-572-7560 or to view BEI Kimco's complete line of Voice Coil Actuators, click here.
BEI Kimco Magnetics, 1499 Poinsettia Ave., Suite 160, Vista, CA 92081, USA, Tel: (760) 597-7042; Toll-free: (800) 572-7560; Fax: (760) 597-6320; email: sales@beikimco.com; www.beikimco.com
About BEI Kimco Magnetics:
BEI Kimco Magnetics is a brand of Custom Sensors & Technologies (CST). BEI Kimco Magnetics was founded in 1974 and is a leading manufacturer of high speed, fractional horsepower brushless BLDC motors, voice coil actuators, smart voice coil actuators and BLDC motor controllers for the Transportation, Industrial, and Aerospace & Defense markets. These products are used across a wide range of applications including medical and scientific, factory and office automation, optics, semiconductor/electronics, military, aviation, space systems, and security. BEI Kimco merges leading-edge capabilities and cost-effective manufacturing know-how with highly customized applications expertise. www.beikimco.com
About Custom Sensors & Technologies:
Custom Sensors & Technologies (CST) is a specialist in sensing, control and motion products. Through its brands, BEI Kimco, BEI Sensors, BEI PSSC, Crouzet, Crydom, Kavlico, Newall and Systron Donner Inertial, CST offers customizable, reliable and efficient components for mission-critical systems in Aerospace & Defense, Transportation, Energy & Infrastructures, Commercial & Industrial OEMs, Medical, Food and Beverage and Building Equipment markets.
Focused on premium value offers and committed to excellence, CST, with 4,700 employees worldwide and sales of $660M US in 2011, is the dependable and adaptable partner for the most demanding customers. www.cstsensors.com
You have successfully added from to your part list.
---