VCA Features Fully Sealed Housing with IP64 Rating
Product Announcement from BEI Kimco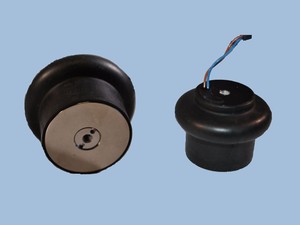 BEI Kimco Magnetics' New Linear Voice Coil Actuator Features Fully Sealed Housing for Highly Contaminated Environments
BEI Kimco Magnetics, a company of Custom Sensors & Technologies (CST), Inc., has introduced the LA13-13 Linear Voice Coil Actuator featuring an IP64 fully sealed package impervious to water splashes and other fluids. This new light-weight actuator provides reliable, long lasting performance in highly contaminated-environments and is ideally suited for industrial, semiconductor and medical applications.
The LA13-13 was designed in response to customer demand for an actuator that could provide continuous operation under highly contaminated conditions and withstand splashes and sprays from water or other fluids without malfunction. It provides a cost-effective solution for initial purchase and prevents expensive actuator replacement costs due to failure from contamination.
"To our knowledge, this is a unique product; others are manufactured with metal enclosure and screws making them expensive and heavy," says Jim McNamara, BEI Kimco's Applications Engineer for VCAs." With our rubber bellow design, we can deliver a lighter weight and lower cost package. This product enhances our existing actuator line with additional capabilities and demonstrates our commitment to solving customer problems," he adds.
For sealing, the device incorporates a rubber bellow that attaches to both the actuator coil and the assembly. Its contoured design allows free actuator movement. Operating characteristics include a peak force of 16.7N, a total stroke of 6.36 mm, and an actuator constant of 2.47 N/sqrt(watt). The unit measures 33.5 mm OD by 28.45 mm in length and weighs 117 grams.
For installation, the actuator is mounted on the field assembly side using a hollow fitting that equalizes the actuator pressure. Pricing for the LA13-13 Sealed Voice Coil Actuator is from $200.00 each in small production quantities with delivery in 8-10 weeks.
BEI Kimco Voice Coil Actuators have been used successfully in countless applications from high-end Industrial to Military and Aerospace to Medical applications. The ability to provide high performance solutions tailored to the specific needs of the customer has allowed BEI Kimco to fulfill many challenging requirements.
For more information on the LA13-13, contact BEI Kimco Magnetics, 1499 Poinsettia Ave, Suite 160, Vista, CA 92081-8430, USA, Tel: (760) 597-7042; Toll-free: (800) 572-7560; Fax: (760) 597-6320; email: sales@beikimco.com; www.beikimco.com
About BEI Kimco Magnetics:
BEI Kimco Magnetics is an operation of Custom Sensors & Technologies (CST). BEI Kimco Magnetics was founded in 1974 and specializes in rotary and linear motion control products. The company's precision motion control products include high-speed performance Brushless DC motors, Cylindrical and Flat Voice Coil Actuators, and Linear Motors. These products are used across a wide range of applications including medical and scientific, factory and office automation, optics, semiconductor/electronics, military, aviation, space systems, and security. Kimco merges leading-edge capabilities and cost-effective manufacturing know-how with highly customized applications expertise. www.beikimco.com
About Custom Sensors & Technologies:
Custom Sensors & Technologies (CST) is a specialist in sensing, control and motion products.
Through its brands, BEI Kimco, BEI Sensors, BEI PSSC, Crouzet, Crydom, Kavlico, Newall and Systron Donner, CST offers customizable, reliable and efficient components for mission-critical systems in Industrial, Aerospace & Defense, and Transportation markets. Focused on premium value offers and committed to excellence, CST, with more than 4,000 employees worldwide and sales of $530M US in 2009, is the dependable and adaptable partner for the most demanding customers. www.cstsensors.com
---