Voice Coil Actuator Has Near Zero Outgassing
Product Announcement from BEI Kimco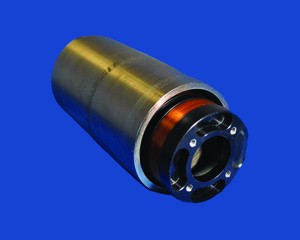 BEI Kimco Magnetics' Voice Coil Actuator Solves Challenging Application Requirements for Near Zero Outgassing Capabilities
BEI Kimco Magnetics, a company of Custom Sensors & Technologies (CST), Inc., recently met the challenging voice coil actuator (VCA) requirements utilized in an optical positioning control application. High quality optical devices demand low outgassing levels to minimize contamination. The devices also require high precision actuation for exact motion control positioning.
Key to the optical focusing mechanism design was a voice coil actuator that would produce near zero outgassing levels. The actuator would move the lens attached to the coil assembly, which in turn would provide precise focus to the system. The operation must be accomplished without contaminating the lens.
To meet the demanding requirements for near zero emissions, BEIKimco developed a Linear Voice Coil Actuator without adhesives or inks and manufactured and assembled all parts by mechanical means utilizing clean manufacturing processes, thereby eliminating any substance that could cause outgassing. High energy Neodymium Iron Boron (NeFeB) magnets were incorporated to provide superior operating efficiencies, and a thermocouple was integrated to monitor and control the coil temperature. With the additional customer specification for an optical clear aperture, the design also included 6.4 mm of stroke and a 12 mm middle hole. The resulting high performance VCA measured 38.1 mm in diameter and 39.6 mm in length (at mid-stroke).
"BEI Kimco specializes in meeting unique customer demands," explains Jim McNamara. "In this application, following several different product interactions, we were able to exceed customer expectations. Our low outgassing actuator is part of high quality, expensive equipment and it must perform at those levels."
BEI Kimco's low outgassing VCA is suitable for a wide variety of demanding OEM environmental conditions such as military, aerospace, microelectronics, test and measurement, and industrial manufacturing applications.
For more information contact BEI Kimco Magnetics, 1499 Poinsettia Ave., Suite 160, Vista, CA 92081-8430, USA, Tel: (760) 597-7042; Toll-free: (800) 572-7560; Fax: (760) 597-6320; email: sales@beikimco.com; www.beikimco.com
About BEI Kimco Magnetics:
BEI Kimco Magnetics is an operation of Custom Sensors & Technologies (CST). BEI Kimco Magnetics was founded in 1974 and specializes in rotary and linear motion control products. The company's precision motion control products include high-speed performance Brushless DC motors, Cylindrical and Flat Voice Coil Actuators, and Linear Motors. These products are used across a wide range of applications including medical and scientific, factory and office automation, optics, semiconductor/electronics, military, aviation, space systems, and security. Kimco merges leading-edge capabilities and cost-effective manufacturing know-how with highly customized applications expertise. www.beikimco.com
About Custom Sensors & Technologies:
Custom Sensors & Technologies (CST) is a specialist in sensing, control and motion products.
Through its brands, BEI Kimco, BEI Sensors, BEI PSSC, Crouzet, Crydom, Kavlico, Newall and Systron Donner, CST offers customizable, reliable and efficient components for mission-critical systems in Industrial, Aerospace & Defense, and Transportation markets. Focused on premium value offers and committed to excellence, CST, with more than 4,000 employees worldwide and sales of $530M US in 2009, is the dependable and adaptable partner for the most demanding customers. www.cstsensors.com
---