Product Announcement from BEI Kimco Magnetics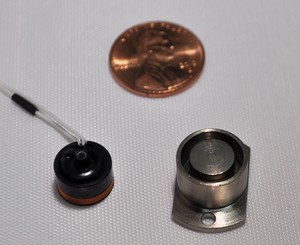 BEI Kimco Announces Breakthrough in Voice Coil Actuator Miniaturization
VISTA, Calif, − Dec. 21, 2010 - BEI Kimco Magnetics, a company of Custom Sensors & Technologies (CST), Inc., has announced an exciting breakthrough in miniaturization for cylindrical shaped voice coil actuators with the introduction of the Model LA05-05-000A. The new actuator measures only 0.5" in diameter by 0.5" in length at mid-stroke, approximately 0.5" smaller than typical models on the market. This size reduction offers engineers a new solution in meeting tight packaging constraints for military, medical and many other industrial applications.
"To our knowledge, the new actuator is unique - there is no other cylindrical VCA this small on the market," says Miguel Hermosillo, BEI Kimco's Applications Engineer for VCAs. "With its tiny size, customers can now use a VCA in spaces they previously couldn't, opening a whole new realm of design options. Previously an application may have required a BLDC motor with other components to accomplish what the LA05-05-000A can now do with a single component."
The miniature actuator provides outstanding performance characteristics including a force of 2.5ozf, a total stroke of 1.02 mm, and an actuator constant of 1.04 N/sqrt (watt). The new actuator features direct drive, hysteresis-free and cog-free operation while delivering high-acceleration and infinite position resolution, particularly important in mission critical applications where precision is paramount.
The LA05-05-000A Cylindrical Voice Coil Actuator is priced in the $90's each in small production quantities with delivery in 8-10 weeks.
BEI Kimco Voice Coil Actuators have been used successfully in countless applications from high-end Industrial to Military and Aerospace to Medical applications. The ability to provide high performance solutions tailored to the specific needs of the customer has allowed BEI Kimco to fulfill many challenging requirements.
For more information on the LA05-05-000A, contact BEI Kimco Magnetics, 2470 Coral Street, Bldg. D, Vista, CA 92081-8430, USA, Tel: (760) 597-7042; Toll-free: (800) 572-7560; Fax: (760) 597-6320; email: sales@beikimco.com; www.beikimco.com
About BEI Kimco Magnetics:
BEI Kimco Magnetics is an operation of Custom Sensors & Technologies (CST). BEI Kimco Magnetics was founded in 1974 and specializes in rotary and linear motion control products. The company's precision motion control products include high-speed performance Brushless DC motors, Cylindrical and Flat Voice Coil Actuators, and Linear Motors. These products are used across a wide range of applications including medical and scientific, factory and office automation, optics, semiconductor/electronics, military, aviation, space systems, and security. Kimco merges leading-edge capabilities and cost-effective manufacturing know-how with highly customized applications expertise. www.beikimco.com
About Custom Sensors & Technologies:
Custom Sensors & Technologies (CST) is a specialist in sensing, control and motion products.
Through its brands, BEI Kimco, BEI Sensors, BEI PSSC, Crouzet, Crydom, Kavlico, Newall and Systron Donner, CST offers customizable, reliable and efficient components for mission-critical systems in Industrial, Aerospace & Defense, and Transportation markets. Focused on premium value offers and committed to excellence, CST, with more than 4,000 employees worldwide and sales of $530M US in 2009, is the dependable and adaptable partner for the most demanding customers. www.cstsensors.com
You have successfully added from to your part list.
---