Rotational Casting Equipment Turning Up Production
Product Announcement from BJB Enterprises, Inc.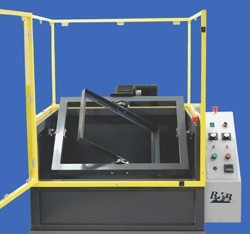 Where can I find resources to help me expand my product line?
What would it be like if I could find a way to reduce my production and material costs?
If you can answer yes to the following questions then this process may be for you.
Are you considering ways to diversify your product line?
Are you involved in manufacturing short, medium or long run plastic parts?
Are you looking to take back more control of your manufacturing processes?
Are you investigating ways to more efficiently control your manufacturing costs?
Imagine finding a different and unique process to do just that!
CPE-615 Rotational Casting Equipment (Watch our video below or on You Tube) is used in multiple industries:
Automotive After Market
Prototyping
Entertainment
Sports Equipment
Etc.
More and more manufactures are re-discovering the advantages of rotationally casting 2 component urethane systems. These material systems are designed to process at room temperature or with moderately elevated temperatures and eliminate the need for expensive tooling and high cost, high pressure processing equipment.
Download the PDF for Tech Specs!
Some Benefits of Rotational Casting Urethanes
You get the advantage of reducing the quantity of material required to make parts and that means lower per part material costs and potentially much lower shipping costs!
In a world where prices are spiraling out of control this is one proven way of protecting you against eroding margins and exploding costs!
Low cost tooling allows for design changes in a fraction of the time at a fraction of the cost!
You also get "Peace of Mind" knowing that our CPE-615 and its larger counterpart the CPE-630 have been designed according ANSI standards with the ultimate in operator safety in mind.
Proof of Concept - Two Case Studies:
Reality Test # 1 - Manufacturer to Food & Beverage Industry
Recently we provided a positive solution to a client that came to us with 2 very real cost cutting concerns in mind:
# 1 They needed to reduce the actual weight of their finished parts
# 2 They desperately wanted to cut down their very high part failure rate
BJB Enterprises, drawing on our years of experience as an expert formulator of thermosetting liquid material systems and processing equipment, selected one of our rigid urethane materials that met their requirements for durability, strength, impact, and cost.
We set up an easy to use process for manufacturing through the use of our CPE-615 Rotational Casting Machine. With production runs of more than 100,000 parts plus annually it wasn't difficult to demonstrate the cost cutting advantages of switching to a rotationally cast production line!
The Outcome:
The client was able to significantly reduce his failure rate minimizing expensive, time consuming refinishing work!
The overall reduction in the weight of the part significantly reduced both his material costs as well as his overseas shipping costs.
Reality Test # 2- University Case Study (in progress)
We recently collaborated with a prosthetic device company employing the use of our rotational casting equipment and our material. Their major concern revolved around safety issues for both operators and other employees working in the vicinity of rotating equipment. Our emergency stop system coupled with our 4 sided clear acrylic safety enclosure completely reduced any exposure to risk and gave them the confidence they were searching for in acquiring equipment. After all, employee safety is a primary concern for every company!
The Outcome:
We provided them with the answer they needed to insure the safety of their employees
We reduced their exposure to any potential liability
We gave them the confidence they needed to move forward with their project
Contact BJB and take advantage of our "Technical Expertise" in liquid materials and equipment. We can help you design a system that suits your specific application needs.
Check out
What's new at BJB!
To view our BJB's Equipment Line -
click here
Check out the great
new videos of some of BJB's latest equipment and materials to see demonstrations and more...
For tech tips and other helpful information click here
Contact BJB Enterprises
Telephone:
(714) 734-8450
For order information, pricing or data, please e-mail:
customerserv@bjbenterprises.com.
For technical information or other product questions, please e-mail:
info@bjbenterprises.com.
For accounting inquiries and invoices, please e-mail:
accounting@bjbenterprises.com.
ABOUT BJB ENTERPRISES
BJB Enterprises is a leading manufacturer and supplier of thermosetting polyurethane, epoxy and silicone systems worldwide. To assist in processing these materials, we also manufacture and supply hand-held and production meter-mix-dispense equipment, vacuum pump systems, and rotational casting machines, all of which can be customized to suit your needs. Read More...
---