TC-1607 A/B Epoxy Laminating Resin
Product Announcement from BJB Enterprises, Inc.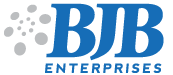 A medium viscosity system formulated for a 35 minute work time and a service temperature to 350°F (177°C).
TC-1607 A/B is an unfilled, medium viscosity laminating resin for high temperature plastic tooling. TC-1607 A/Bis non-staining and is ideal for making tools from wood or plaster, where it is impractical to use heat. A TC-1607 A/B laminate can be removed from the master after 24 hours and post-cured to 300º - 350ºF without sagging or distortion when a support backup structure has been added to the laminate.
Product Highlights:
Easy to use for lay-ups requiring vacuum bagging
Withstands temperature to 350ºF
Designed for fabrication of a variety of molds
Product Applications:
Vacuum-form molds
RTM/RIM type molds
Compression molds
Auto-Clave molds
High temperature jigs and fixtures
---