Product Announcement from BREN Inc.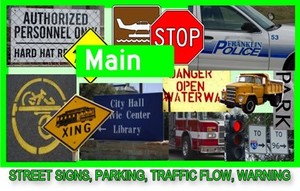 WHO IS USING BREN CUTTERS?
MUNICIPLE / PUBLIC WORKS
City, state, and county governments use BREN systems to produce and comply with their traffic control and street sign regulations. As a fully-compliant MUTCD, SEGD, OSHA, and ADA source for signs, our business provides low-cost computer-generated signs on demand. Our machines support the creation of signs and markings used by fire, police, park, recreation, and public works departments nationwide.
Your BREN system comes with a complete Federal MUTCD sign library in "Ready-To-Cut" format. In addition, signs or stencils used for related FIRE, POLICE, PARKS & RECREATION, PUBLIC WORKS, RE-DEVELOPMENT, REFUSE COLLECTION or almost any need are easily done in-house at a fraction of the cost to purchase them outside.
Whether you're a small city or large municipality or parish government. Whether you need to only do street sign replacement or want a complete sign shop, we can help. BREN systems are in use all across the country and Worldwide. Currently the U.S. Military uses BREN systems to create and replace traffic related signs in both Iraq and Afghanistan.
Many times a city can purchase a BREN system to re-sign an area or complete "911 project" and fully pay for the system and signs within the budged amount for the sign purchase alone making the system cost effectively FREE.
Let BREN show you how easy and economical having your own sign system can be. With complete systems at under $4,000.00 your city can be designing and creating your own signs in just hours.
BREN provides a COMPLETE SYSTEM with Cutter, Mobile Stand, Cables, Manuals, Windows® Drivers, Software, a full MUTCD package and our product support is without equal. Your operators can call on BREN using a TOLL-FREE number at any time during business hours for any help needed. We can provide phone support, or even setup a video conference for "face-to-face" instruction. And it's all FREE for as long as you own the system. BREN maintains a full inventory of Stencil & Sign Materials and Cutting or Application accessories.
Contact BREN today to see how your city can save hundreds of dollars and provide all the signs or stencils you need when you need them.
You have successfully added from to your part list.
---