Product Announcement from BTECH, Inc.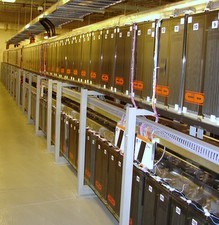 Battery Monitoring Systems for Manufacturing Applications
BTECH's Battey Monitoring and Validation Systems are found in many applications for manufactures of virtually any product, from Automobiles to Toothpaste.
Food Processing Facilities Chemical Processing
Phamaceutical Production Steel Mills & Heavy Industry
Automotive & Suppliers Beverage & Beer Brewing
1) Ensure Your Production Control Systems - Chances are your production control systems rely on a typical UPS with a VRLA battery cabinet - meaning your systems are at risk of battery failure. The losses due to just hours of production downtime far surpass the cost deploying our Battery Monitoring Solution across your entire company.
2) Protect Your Switchgear - Standard applications are 120 or 240V systems with backup batteries ranging from 10 or 20 12V VRLA (monoblock style) to 60 or 120 2V flooded (wet) cell or large VRLA on racks.
3) Your Corporate Data Center - Make sure your mission critical data center stays up in during the next outage.
Add your name to our long list of satisfied clients and
request a quote, or contact us for more information today!
"The BTECH system has predicted more than 30 potential battery failures"

We are an Electric and Gas Utility in the State of Michigan. We have more than 6 million customers state wide. In 1995, three years after installing 450 KVA of UPS equipment to protect the operation of Consumers Energy's Corporate Computer System we suffered three individual battery failures that interrupted computer operations at critical moments. The interruptions came during storms when our systems are most taxed for support of storm related power outages. Nearly four hours of down time was experienced on the automated Trouble Analysis System which monitors operating systems, prints work orders for outage restoration and handles more than 10,000 calls per hour during each interruption. The batteries were at fault and quarterly checks of the batteries failed to recognize the potential for battery failure or predict their early demise.

We investigated a number of battery monitoring systems and found BTECH to be the only system that did not perform constant load tests on the batteries which shortens battery life by testing alone. In 1995 we purchased the BTECH monitoring system for each of 5 UPS units with more than 300 batteries in the system for corporate offices here in Jackson Michigan. Since their installation we have not had one battery related outage of an operating UPS unit. In fact, we have not had any outages in more than 150 power surges, spikes, and interruptions of service in the last 8 years.

The BTECH system has fore warned of more than 30 potential battery failures allowing us to replace batteries before they fail. The BTECH system has also extended our use of battery strings as well. Knowing how the batteries are performing late in their life allows us to replace entire strings at less frequent intervals.

The only way to know how your batteries are performing is to monitor their performance on weekly basis. BTECH has provided flawless service in maintaining our battery back-up systems. It allows us to provide immediate support to our customers when storm outages occur and seamless operation of our computer support systems.

Ken Rheault
Sr. Technical Analyst
Consumers Energy Co Jackson, Michigan
Member ASHRAE - Member AEE
Certified Energy Mananger
Certified Indoor Air Quality Professional
You have successfully added from to your part list.
---