Stainless vs Galvanized fasteners in Solar Panels
Product Announcement from BUFAB USA, Inc.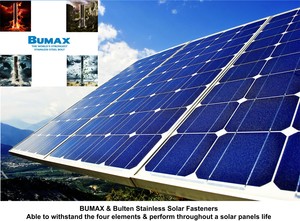 BUMAX & Bulten Stainless in Solar Panel Applications vs Galvanized Fasteners
Bufab Bulten Stainless has several projects with custom fasteners including bi metal screws, custom U-bolts, large diameter pins and BUMAX Hard Taptite. Made from BUMAX, carbon steel, or 316 stainless, these fasteners are being utilized instead of galvanized hardware. Galvanized hardware will rust before the panel meets its end of life. Rust will cause not only aesthetic issues, but will also seize on aluminum mounting rails causing major issues during repair or replacement. Our Swedish stainless steel products offer top quality, and give buyers the confidence of knowing they are purchasing 316 or better instead of low grade materials.

Corrosion Properties
The most common types of corrosion in acid-proof steel are spot corrosion, crevice corrosion and general corrosion. The steel's chemical composition has a major effect on the corrosion properties, with the superior properties being mainly provided by the alloy substances chrome (Cr), nickel (Ni) and molybdenum (Mo). The low carbon content (C) is not so important in this respect. It is mainly in high temperatures that low carbon content is essential. In 10% Sulphuric Acid, Bumax only loses 0.04 mm/year as opposed to 0.32 mm/year for standard 316L. Bumax has shown no corrosion after a 10 year exposure to marine environments
THE BUMAX ADVANTAGE
The BUMAX fasteners are manufactured from a new variant of acid-proof Swedish steel SS 14.2343. The striking feature of the steel's composition is its low Carbon content and increased content of Chromium and Nickel.
Exceeds off the shelf stainless fasteners. Equivalent to SAE J429 Grade 5&8
Off the shelf availability full range of fasteners from Bolts, Nuts, Studs to Washers
Lower magnetic permeability
Corrosion resistance up to 3x greater than 316L
Can replace other costly alloys
DFARS compliance
Full traceability
PED Certified
You have successfully added from to your part list.
---