Multi-Gas Detectors from BW Technologies
Product Announcement from BW Technologies by Honeywell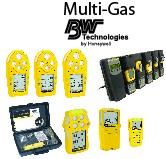 BW Technolgoies by Honeywell offers a number of multi-gas detectors to suit a variety of needs and applications.
Rugged and reliable, the GasAlertQuattro four-gas detector combines a comprehensive range of features with simple one-button operation and IntelliFlash. To learn more about the GasAlertQuattro, click here.
Providing protection from up to five potential atmospheric hazards including oxygen, combustible and toxic gases, GasAlertMicro 5 is unparalleled in its versatility, capability and overall value. To learn more about hte GasAlertMicro 5, click here.
The most cost effective way to manage the calibration and bump testing of BW's portable gas detectors is through the MicroDock II automated test and calibration system. To learn more about the MicroDock II, click here.
Designed for use with BW single and multi-gas detectors, the BW Sampler is a motorized pump that allows remote sampling capabilities to be added to any BW diffusion instrument. To learn more about the SamplerPak, click here.
About BW Technologies by Honeywell:
For more than 20 years, BW Technologies by Honeywell has been a Canadian-based, industry-leading producer of innovative gas detection instrumentation. BW's success has been achieved through a commitment to providing customers with high performance, dependable products backed by exceptional customer service and support. Established in 1987, this home-grown Calgary business began with the pioneering Rig Rat, the world's first wireless solar-powered gas detector.
BW Technologies aims to be the leading supplier of gas detection equipment for the protection of personnel and facilities around the world.
Learn more about BW Technologies by Honeywell's extensive line of Gas Detection products and systems (use the links below for specific product information and data):
---