SamplerPak for Single- and Multi-Gas Detectors
Product Announcement from BW Technologies by Honeywell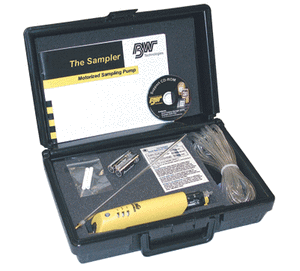 Designed for use with BW single and multi-gas detectors, the BW Sampler is a motorized pump that allows remote sampling capabilities to be added to any BW diffusion instrument. The Sampler is an excellent choice for a multitude of applications and industries, including pre-entry and continuous confined space work. Available as its own kit, or as part of a Confined Space Kit with any compatible instrument. Click here to learn more.

About BW Technologies by Honeywell:
For 20 years, BW Technologies by Honeywell has been a Canadian-based, industry-leading producer of innovative gas detection instrumentation. BW's success has been achieved through a commitment to providing customers with high performance, dependable products backed by exceptional customer service and support. Established in 1987, this home-grown Calgary business began with the pioneering Rig Rat, the world's first wireless solar-powered gas detector.
BW Technologies aims to be the leading supplier of gas detection equipment for the protection of personnel and facilities around the world.
Learn more about BW Technologies by Honeywell's extensive line of Gas Detection products and systems (use the links below for specific product information and data):
Portables
Fixed
Stand Alone Systems
---