Simple, durable 4-gas monitor from BW Technologies
Product Announcement from BW Technologies by Honeywell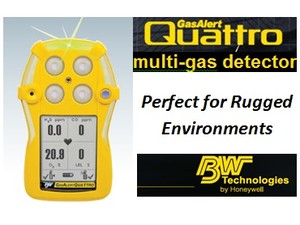 GasAlertQuattro is the most economical and simple way to ensure compliance. Among portable multi-gas detectors, only the GasAlertQuattro has IntelliFlash, a green LED that continuously flashes to let the safety managers know their crew is safe, the site is compliant and the job is productive. So you can spend less, worry less and do more.
Quick Links:
Visual auditing, easy compliance
Rugged and reliable, the GasAlertQuattro four-gas detector combines a comprehensive range of features with simple one-button operation. With fl exible power options, the GasAlertQuattro is always ready. The graphic LCD displays easy to identify icons that indicate operational information, such as bump test and calibration status for simplifi ed onsite auditing. IntelliFlash provides continuous visual confi rmation of detector operation and compliance.
---