Ammonia Gas Monitor Single Zone
Product Announcement from Bacharach, Inc.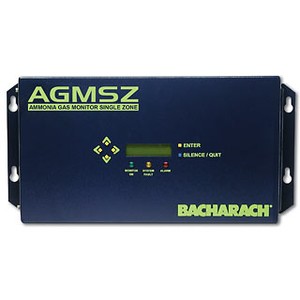 The AGMSZ displays the type of gas being monitored, along with displaying both the current gas level and the peak gas level detected on its front panel LCD. The instrument retains a log of previous readings that can be easily accessed for analysis.
An internal audible alarm and front panel indicators are provided to signal alarm and fault conditions, and relay contacts can be used to trigger external alarm devices in the event of a system fault, or if a leak (small), spill (medium), or evacuation (large) level of gas is detected. The system also includes a 4-20 mA current loop interface that can be connected to remote monitoring equipment.
Features
Measures ammonia gas in the range of 25 to 10,000 ppm with a sensitivity of 1 ppm
Easily complies with ASHRAE 15 requirements with a low-cost investment
Eliminate false alarms with use of non-dispersive IR source and sample draw system
Monitors a single zone located up to 500 feet from unit
Logging feature enables 200 gas readings to be stored
Three gas alarm levels that can be individually set
Bolt-in, bolt-out internal components so the unit never leaves the wall
Two-year warranty
Specifications
Gas Measured: Ammonia (NH3, also known as R-717)
Measuring Range: 25 to 10,000 ppm
Input: Dedicated single zone
Output Signals: 4 SPDT, 5 Amp, 240 VAC relays; digital display; and a 4-20 mA DC current loop output
Detector Type: Single pass, non-dispersive infrared
Sensitivity: 25 ppm
Accuracy: ±10 ppm ±10% of reading from 0-1000 ppm
Front Panel Indicators:

MONITOR ON - Green light ON when the unit is operating normally, or flashing during warm-up
SYSTEM FAULT - Yellow light ON when there is a system fault
ALARM - Red light ON when the gas level is above an alarm setting

Response Time: 9 to 30 seconds, depending on tube length and gas concentration
Max. Monitoring Distance: Up to 500 feet from measuring point to monitor
Operating Temperature: 32 to 122°F (0 to 50°C)
Humidity: 5 to 90% RH, non-condensing
Altitude Limit: 2000 Meters
Power: 100-240 VAC, 50/60 Hz, 15 Watts
Size/Weight: 14"H x 18"W x 4.7"D / 7 lbs
Certification: UL 61010A-1, CSA 22.2, CE Mark
---