Fyrite® InTech™ Combustion Analyzer
Product Announcement from Bacharach, Inc.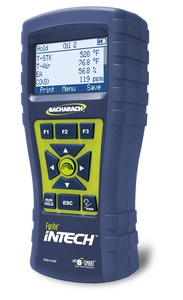 The Fyrite® InTech™ residential combustion and efficiency analyzer provides rugged, reliable, long-running performance in a light, handheld unit - offering service technicians the easiest and most affordable way to gain the benefits of electronic-combustion and efficiency testing.
B-Smart® pre-calibrated CO sensors (0-2,000 ppm), 6 pre-programmed fuels including propane (10 for EU version), and a high-contrast graphic display, with backlighting, make the Fyrite® InTech™ a feature-packed, easy-to-use instrument.
Its internal memory is capable of storing up to 10 complete records, which can also be downloaded to a PC or printed via an infrared printer using an optional reporting kit.
The instrument is also offered in various reporting kit configurations as well as an O2 only model.
Measurement Ranges:

Ambient Temperature: 23° F to 113° F (-5° C to 45° C)
Flue Gas Temperature: -4° F to 1,202° F (-20° C to 650° C)
Oxygen (O2): 0.0% to 20.9%
Carbon Monoxide (CO): 0 - 2,000 ppm

Calculated Ranges:

Combustion Efficiency: 0.1 to 100%
Carbon Dioxide (CO2): 0.1 to a fuel dependent maximum (in %)
Carbon Monoxide (Air-Free): 0 to 9,999 ppm
Excess Air 0 to 250%
---