GDX-350
Product Announcement from Bacharach, Inc.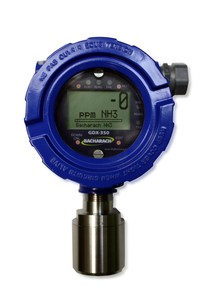 Gas Sensor Transmitter / Monitor
Bacharach's all new state-of-the-art GDX-350 low temperature transmitters with B-Smart® technology provide accurate detection of ammonia (NH3) and carbon dioxide (CO2). These full featured standalone transmitters are designed to operate in extreme temperature conditions found in blast chillers and deep freezers. GDX-350's unique design includes programmable heaters for both the sensor and electronics that are automatically activated when temperatures drop below user selectable temperatures. Placing the sensors inside these harsh operating environments allow for quick detection and response to the smallest leaks, protecting human life as well as product and machinery.
The GDX-350 has a large LCD display that shows gas concentrations and engineering units, as well as the flexibility to show historical data for the previous 30 minutes. Utilizing the graphic display,users can navigate through its menu driven magnetic keypad to change alarm set points, instrument configurations, or enter into maintenance mode for non-intrusive sensor calibration. For security,the GDX-350's security menu allows entry of an authorization code to lock critical parameters. Accompanying the LCD display are standard LED alarm indicators that show when low and high alarm conditions are met. An optional relay board is available to provide three, 5-amp relays that can be used to drive audible/visual alarms, or activate exhaust fans.
---