MGD-100 Gas Detection System
Product Announcement from Bacharach, Inc.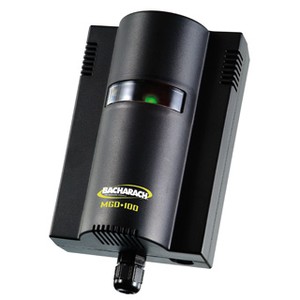 The MGD100 series offers a stand-alone, out-of-the-box solution with quick and easy installation - the most cost-effective system available. They can be configured from single-sensor, one-alarm level systems to larger scale systems consisting of 6 sensors with 2 alarm levels. This flexibility allows the
platform to be used for both small and large systems.
The MGD-100 alarms when pre-set thresholds are exceeded. The MGD-100's alarms are monitored by a centralized controller, which can alert personnel of potential hazardous conditions via an onboard buzzer and LED alarm indicators.
Infrared (NDIR) CO2 detection
Long-life semiconductor sensors for detection of all refrigerants, ammonia, halocarbons, combustibles & VOCs
Robust design allows units to be placed directly in areas where detection is needed.
Available in a variety of housings, including IP66 and duct mount.
Select from 1, 2, 4 or 6 remote sensors and 1 or 2 pre-set alarm levels, which can be connected to BMS systems.
Click here to review product specs and a datasheet on our website.
---