MGS-150 Gas Transmitter Series
Product Announcement from Bacharach, Inc.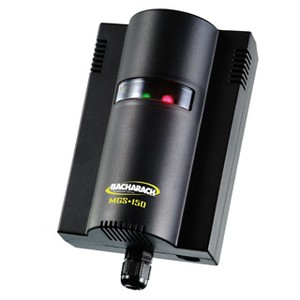 The MGS-150 comes standard with user-selectable analog and digital outputs that can be set for 4-20 mA, 0-5V, 1-5V, 0-10V, or 2-10V; allowing them to connect directly to most BMS, SCADA or control systems. Alarm indicators include an onboard alarm LED and audible buzzer, in addition to an alarm relay for connection to external audible/visual alarms or a BMS system.
Infrared, semiconductor and electrochemical sensor options to meet almost any gas detection need - at the most affordable cost.
User-selectable analog outputs: 4-20 mA, 0-5V, 0-10V, 1-5V, 2-10V featuring 12/24 VAC/VDC operation
Fast-response sensors detect leaks quickly, which protect personnel and minimize refrigerant gas usage and environmental impact.
Long-life semiconductor sensors for detection of all refrigerants, ammonia, halocarbons, combustible gases & VOCs
Robust design and remote sensor options allow units to be placed directly in areas where detection is needed.Click here to review product specs and a data sheet.
---