Tru Pointe® 1100 Ultrasonic Leak Detector
Product Announcement from Bacharach, Inc.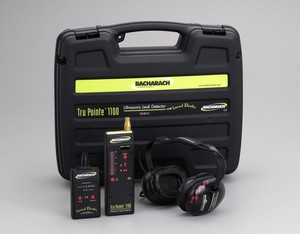 The principle of operation of the Tru Pointe® 1100 is based on the detection of ultrasonic acoustics produced by the turbulent flow of gases and liquids in leaks, both internal and external. Carrying multiple patents, the Tru Pointe® 1100 incorporates two independent sensors that identify external (airborne) leaks and internal (structural) leaks of any gas.
Digital Ultrasonic Inspection System for Leak Detection
Capable of detecting a 5 PSI leak out of a 0.005" hole, 30 to 40 feet away (depending on background noise).
Unaffected by the presence of other gases or sounds in the test area.
Unaffected by wind or temperature fluctuations.
Includes high-quality noise attenuating headphones compatible with hard hats.
Unique AudioZoom™ volume control.
When combined with the ultrasonic sound generator, the SoundBlaster®, the Tru Pointe® 1100 can detect leaks from tanks, enclosures, building doors & windows, automobile windows & windshields, walk-in coolers, clean rooms ship hatches and compartments.
Click here to view product specs and data sheet
---