Product Announcement from Bailey International LLC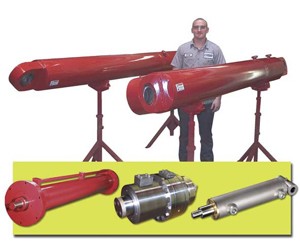 Custom Order Lead Times Reduced to 4-8 Weeks and 2 Weeks for Priority Rush!
Bailey has transformed our manufacturing facilities to meet the ever increasing demand for hydraulic cylinders and are now accepting custom orders. Complete the Bailey Custom Cylinder Worksheet for a online quote or call 1-800-800-1810 ET.
The Bailey Custom Design Team works with OEM's and individuals to utilize hydraulic cylinders in equipment for applications in agricultural, construction, mining, forestry, trailers, food industry, and and many others. The Design Team has a close partnership with our manufacturing teams at the various locations to work together from design concept through delivery. These groups insure the product will be made with the highest quality materials and most appropriate manufacturing processes, all controlled via Bailey's quality standards and practices. The Bailey Custom Power Unit Team works closely with customers to serve their needs in the design of our custom hydraulic power units that are both electric motor driven and gasoline powered.
Bailey's Custom Cylinder teams are comprised of individuals who have experience working with customers worldwide. They can adapt to any known standard required, such as SAE, DIN, ISO and more. their collective experience includes formal training, certification and decades of applied experience in the design of hydraulic cylinders and applications. They utilize design tools such as solid modeling (3-D) CAD to decrease the design-to-production time, minimize design errors, and have the ability to share the end drawing with customers for their internal technical needs. This process also enables Bailey to utilize finite element analysis (FEA) software, which helps to ensure a quality design. Bailey designs hydraulic cylinders for numerous applications, such as the overseas shipping industry. Due to the extreme environmental conditions, cylinders used in this industry must meet the rigorous standards of international shipping bureaus such as the American Bureau of Shipping (ABS) and Lloyd's Register of Shipping. These shipping bureaus require that the hydraulic cylinder be designed and documented to the highest level of detail. As it is required in manufacturing relationships such as this example, Bailey has experience working with exacting requirements.
Manufacturing Capabilities
Bailey custom hydraulic cylinders are a vital component of their business, and they have designed manufacturing and quality systems to ensure that they serve all customers with quality products that are produced in a timely fashion at competitive pricing. Current capabilities allow the production of cylinders and components with bore sizes from 1.5" (38.1mm) to 21.6" (550 mm) and cylinders with strokes from .5" (12.7mm) to 23' (7010.4mm). Cylinders are designed from 100 PSI (6.89 bar) to 5945 PSI (410 bar) operating ranges. Bailey can incorporate valves, and a wide range of mounting options along with custom coating and packaging options. Their capabilities are constantly expanding, and they welcome the opportunity to discuss specifications that may fall outside these guidelines.
Bailey's international manufacturing network will provide rapid product delivery times and our increased Knoxville USA manufacturing capacity can now deliver welded cylinders with reduced lead times. The Bailey expedited production and delivery system is among the fastest in the industry. Complete the Bailey Custom Cylinder Worksheet for a online quote or by calling 1-800-800-1810 ET for North America.
Custom Power Units Lead Times Reduced!
Small horsepower custom units ship within 3-5 business days. For larger horsepower custom units contact us for lead times.
Custom Chief AC and DC power units are available in a variety of flow and pressure combinations with a wide selection of reservoir, pump and valve options to fit most applications. Gasoline powered units are available up to 24 horsepower. Bailey can build Chief Custom Power Units to meet almost every application. We have built units for use in agricultural implements, sawmills, mining implements, quarries, compactors, landfills, material handling equipment, automotive repairs, transportation, hanger door openers, man lifts, light industrial, industrial maintenance machines and more. We have built units with a variety of custom features including redundant DC backups for AC units, gas units, hand pumps, explosion proof motors, washdown motors, drip pans, oil coolers, heat exchangers, solenoid or manual control valves, kidney loop filtration, offline filtration, tandem pumps and two-stage pumps. Our Power Unit Technical Support team would like to assist you with your current needs. Give us a call today at 1-800-800-1810 for assistance with your questions and to place your order or download a Power Unit Worksheet on Baileynet.com to fax to Bailey at 1-800-800-1811. See prices and order direct on Baileynet.com Custom Power Units.
You have successfully added from to your part list.
---