Class III Biological Safety Cabinets
Product Announcement from Baker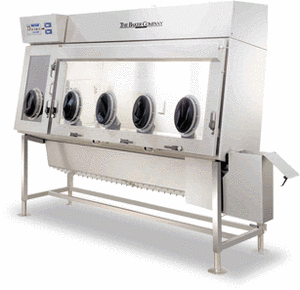 There are at least a million reasons why we don't take shortcuts.
When it comes to world's most dangerous agents, laboratories all over the world turn to The Baker Company for Class III biological safety cabinets, which are gas-tight and designed for use with high risk microbiological agents and potent compounds. Because of the sensitive nature of most procedures performed within a Class III cabinet, Baker builds each containment system to exact customer specifications.
Typical applications for Class III include:
•Working with emerging diseases or diseases marked for near eradication.
•Weighing and diluting chemical carcinogens.
•Working with high concentrations of low to moderate risk agents.
•Use of equipment or instrumentation generating high aerosol volumes.
•Maximum containment of highly infectious or hazardous experimental materials.
•Working with large amounts of low to moderate risk agents.
IsoGARD® Class III Glovebox
•Class III, for Type A2 Applications
•Walk-in clean air and containment enclosure
•Available in two sizes
The Baker Company designs and builds application-specific Class III gloveboxes to the highest specification for containment and construction detail. Many Class III cabinets are custom systems. The IsoGARD was developed by bringing together the best and most requested features of our custom Class III systems and offers a standardized line of biological safety cabinets.
Baker's IsoGARD™ series is designed to allow safe handling of hazardous microbiological agents or pharmaceutical potent compounds under contained conditions. Our exclusive design offers a degree of product protection higher than that achieved before in any Class III equipment because the entire volume of air within the cabinet is replaced. The IsoGARD bathes the interior of the cabinet with HEPA-filtered air, thereby increasing entrainment of generated particles and keeping the work area free of contaminants.
Class III gloveboxes can be engineered to provide the highest level of personnel, product and environmental protection, all with the convenient, user-friendly features and ergonomic comfort you've come to expect from a Baker cabinet.
You have successfully added from to your part list.
---